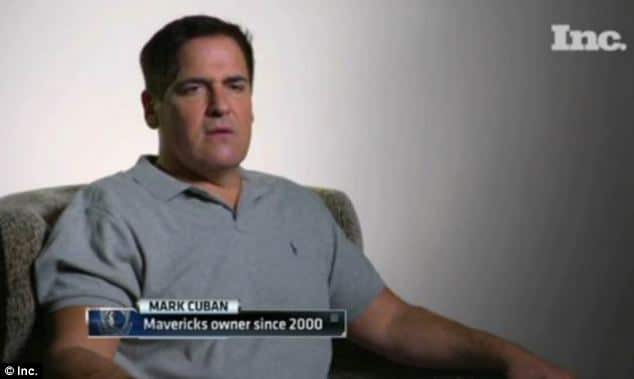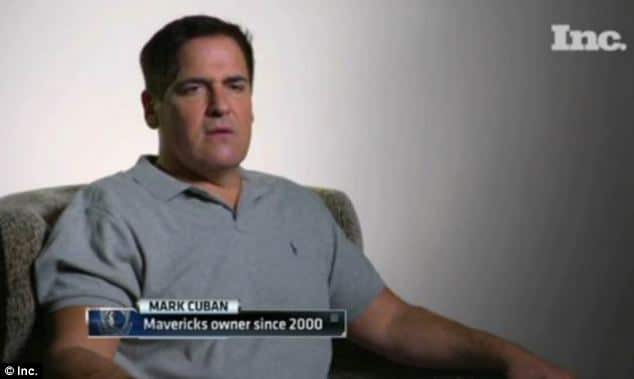 Dallas Mavericks' Mark Cuban has sparked outrage after admitting he would cross the street if he saw a black kid in a hoodie.
Cuban made the remarks as he spoke about bigotry after he was asked at a conference to address the controversy over banned Los Angeles Clippers owner Donald Sterling.
In the interview, Mark Cuban acknowledged that overcoming bigotry requires acknowledging internal prejudices.
'I know I'm prejudiced and I know I'm bigoted in a lot of different ways,' he said.
'If I see a black kid in a hoodie and it's late at night, I'm walking to the other side of the street. And if on that side of the street, there's a guy that has tattoos all over his face – white guy, bald head, tattoos everywhere – I'm walking back to the other side of the street.'
'The list goes on – of stereotypes that we all live up to and that we're fearful of,' he continued.
'I know that I'm not perfect. While we all have our prejudices and bigotries, we have to learn that it's an issue that we have to control, that it's part of my responsibility as an entrepreneur to try to solve it, not just to kick the problem down the road.'
It wasn't soon that Cuban found himself being lambasted for his comments.
Critics said his 'hoodie' reference recalled the 2012 shooting of unarmed, black Florida teenager Trayvon Martin, who was wearing a hooded sweatshirt when he was fatally wounded in a struggle with a man who said he feared for his life.
Cuban defended his views on Twitter, saying that his quotes were not meant to advocate racism.
'The point was that before we can help others deal w racism we have to be honest about ourselves,' Cuban wrote in a tweet.
'You're trying to make this about a Hoodie,' he said to another tweeter. 'You know damn well its not [sic]. It's about whatever makes you feel threatened.'
Fellow NBA owner Sterling was banned for life from the sport and fined $2.5 million after a recording of him surfaced where he made comments about race that included telling his girlfriend not to bring black people to his team's games.
The admission comes after Cuban, who is worth $2.6 billion, condemned Donald Sterling's leaked comments as 'abhorrent' and 'obviously racist.'
That said the Dallas Mavericks' owner initially opposed calls to ban Sterling from the NBA, saying it would be a 'very slippery slope' if the league forced an owner to sell the team.
'In no uncertain terms am I supporting what Donald Sterling said, or his position,' Cuban said. 'He's obviously racist, he's obviously bigoted. And in this day and age when you're in the public eye you've got to be damn careful – if that's your position and that's unfortunately where you're at – you better be damn careful what you say, even in the privacy of your own home.
'But regardless of your background, regardless of the history they have, if we're taking something somebody said in their home and we're trying to turn it into something that leads to you being forced to divest property in any way, shape or form, that's not the United States of America. I don't want to be part of that.'