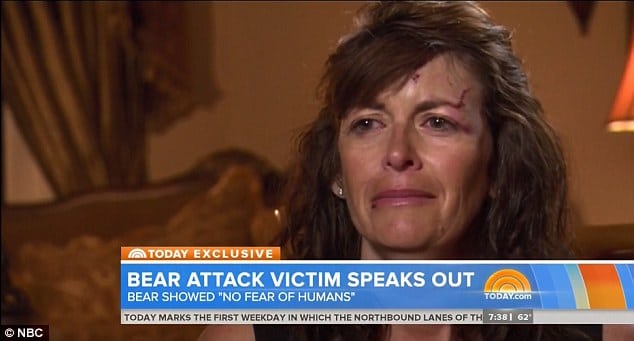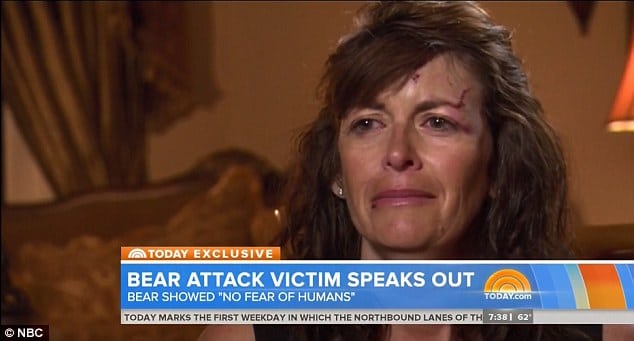 Terri Frana, a Florida woman has been mauled by up to 5 bears after she was ambushed and dragged from inside her garage onto the driveway.
The Saturday night mauling came after the woman came to find the bears digging through her garbage bins in her garage.
The 44 year old woman only came to survive after managing to escape the bear's clawing and running back inside the house where she had her husband call 911.
The woman was subsequently rushed to hospital with wounds to her  head, face, legs and torso. Upon her release yesterday Terri Frana had 30 staples in her scalp and 10 stitches to her forehead
The latest bear attack happened just 10 miles from another bear mauling where a woman was jumped upon whilst walking her dogs home.
Wildlife officials believe that at this time of year bears were more likely to be scavenging for food and that residents should be on the lookout.
In the latest incident, Seminole County Sheriff Lt. Pete Brenenstuhl said that the woman was set upon by five bears 'of various sizes,' suggesting it was a family of the animals.
He said the bears pounced on her the moment they saw her and 'dragged her from inside the garage out into her driveway.'

Told Terri Frana via NBC's Today: 'I can't close my eyes and not think about it, see it, feel it, but that will go away in time and I'm here,' 
'I'm here for my kids.'
Frana said she had stepped outside to get her children, who had been playing on their bikes when she was charged by the bears.
Reiterated Frana: 'I saw this large bear charging at me,'
'She opened her jaw and clamped down onto my head, and I could just hear her teeth marks going through my scalp.'
Whilst it was initially reported that the woman had been attacked by up to 5 bears a press report yesterday morning that number to a solitary bear, albeit an aggressive 200 pound bear. Nevertheless on nbc Terri Frana insists there were 5 bears involved.
Reports orlandosentinel: 'As far as we know there was only one aggressive bear,' Florida Fish and Wildlife Officer Lenny Salberg said during a press conference Sunday morning. He said there may have been other bears in the immediate area, but only one is thought to have attacked the woman.
Told Dave Telesco, the head of the wildlife commission's bear management program: 'Now is the time to expect bears to show up looking for food.
'If they can't find food in your neighborhood, they'll move on.' 
In the 1970s an estimated 300 wild black bears were in Florida but that number stood at 3,000 in 2002, the most recent survey.
Researchers believe there could be as many as 5,000 now.