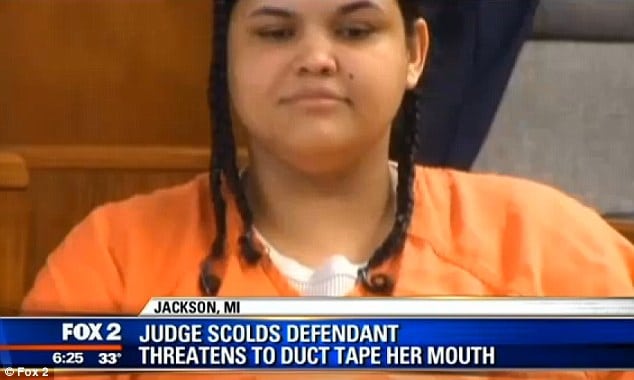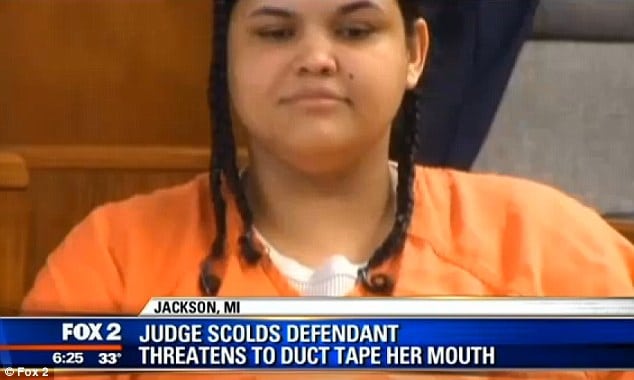 Michigan Judge John McBain snapped at convicted killer Camia Gamet after the 31 year old turned and snickered whilst the victim's aunt rendered an emotional account of her nephew's butchered death.
Retorted Gamet at the time: 'Is that it?'
Told the judge: "I hope you die' after he sentenced her to life behind bars, and added 'if this was a death penalty state you'd be getting the chair.'
The verdict came after the brutal slaying of Camia Gamet's former boyfriend, Marcel Hill, two years ago.
Added the judge: '….it was 'one of the worst cold-blooded murders he's ever seen.'
After Gamet rolled her eyes, snickered and then interrupted Hill's aunt, the judge lost it.
'You're going to shut your mouth or I'm going to have some duct tape put on it,'
'You gutted him like a fish in that apartment. You were relentless. You stabbed. You stabbed. You stabbed. You stabbed. You stabbed until he was dead.'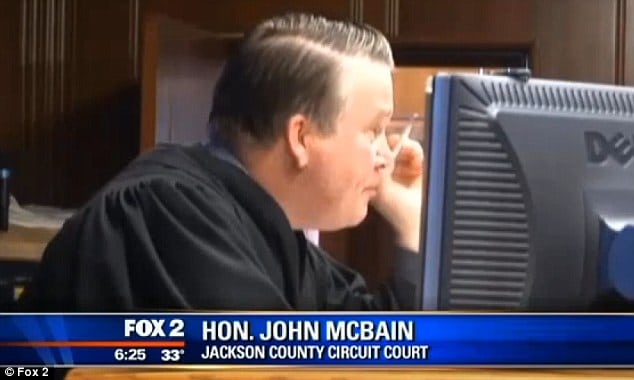 A jury convicted Gamet in March of the grisly murder.
During proceedings, prosecutors told Camia Gamet had stabbed Marcel Hill a total of 11 times.
Reiterated the judge: 'I agree with the family. I hope you die in prison. If this was a death penalty state, you'd be getting the chair,'
Pursuant to Judge John McBain putting the convicted killer in her place, the courtroom applauded.
Told a cousin of the victim afterward: 'God is good. We all got what we wanted.'
Gamet's defense plans to appeal the sentence and have argued she acted in self defense in the May 18, 2012 murder.
McBain would later defended his outburst.
'I don't think anything I did was wrong,' McBain told MLive.com. 'Sometimes, I think a judge needs a little fire in the right kind of cases.'
Last year, McBain told another convict being sentenced to life that he would die in prison.
'You are going to die in the Department of Corrections. I have no doubt you will appeal for many years, but ultimately you are going to die,' he said during the sentencing of Michael Patrick-Murphy Hamilton, who was convicted of killing Robert Marcyan in September 2012.
Despite Judge John McBain's position one wonders if he was nevertheless out of line? Is it his role as an administrator of the law to issue moral edicts? His role to condemn those brought in front of the court and if so what do we mean by crime and punishment? Then again perhaps it was shear exasperation at the conceit of the criminal, which is how of course she probably ended up there in the first place….
Commentators on the web have been divided as to whether the judge spoke out of line, whilst many believe he was simply giving back the convicted killer, given the nature of the severity of the crime what she deserved. Some have even wondered if the judge's outburst may affect the outcome of the trial whilst other commentators also re affirmed their desire to see death sentences applied.