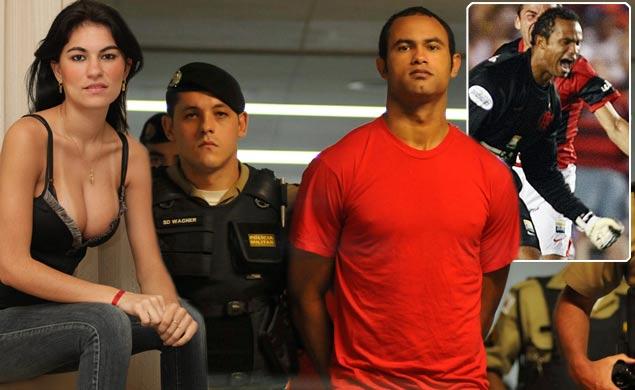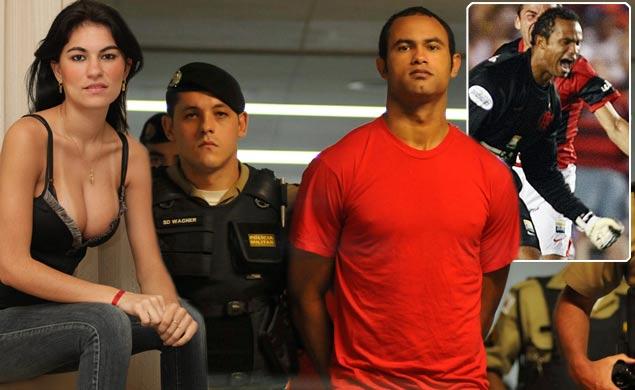 Courts in Brazil are due to make a decision whether to let convicted murderer, Bruno Fernandes de Souza play soccer again after only serving 12 months of a 22 year jail sentence for the brutal murder of his then pregnant girlfriend.
At the time, the much lauded Brazilian goalkeeper, 28, confessed to having his girlfriend Eliza Samudio, kidnapped, murdered and subsequently fed to dogs.
Nevertheless the Brazilian soccer player, despite his confession and prison sentence was allowed to sign a five year contract with local team Montes Claros of the Campeonato Mineiro district.
The contract would in effect, if sanctioned by the courts allow Bruno Fernandes de Souza to leave prison on day release, accompanied by a police escort, to train with the team and play in matches.
At the time of the man's trial, the court heard the married goalkeeper had killed his then pregnant girlfriend because he wanted to avoid paying child support after she gave birth to his love child.
The court was told that  Eliza Samudio's body was fed to the goalkeeper's pet rottweilers.
The star Brazilian goalkeeper at the time of his arraignment had been tipped to play for Brazil during the 2014 World Cup.
Behind bars since 2010, the player is hoping to take advantage of a provision in Brazilian law that allows a prisoner more freedom after three or four years, so long as they have shown good behavior.
Montes Claros club president, Ville Mocellin, confirmed the controversial decision to allow Bruno to sign a contract while he is behind bars.
'We want to give an opportunity to the man Bruno,' he told local press.
'For him, it is a chance to return to play. To the club, he is an athlete who can strengthen the team and a way to invest in the social side.'
Judge Marixa Fabiane Rodrigues said the goalkeeper, who played for Brazil's biggest team Flamengo, had 'meticulously calculated' Eliza Samudio's execution.
He told the court in Contagem, south-east Brazil, that the footballer was 'twisted' and had 'instilled in his personality a total misunderstanding of values.'
He added: 'Bruno believed that, by making the body disappear, he could ensure total impunity.'
The former player had previously denied any knowledge of what happened to the 25-year-old, but told a court last March how his best friend Luiz Henrique Romao had paid someone to kill her.
He admitted that although he hadn't ordered his former lover to be killed, he had 'accepted' it.
The goalkeeper is accused of planning Eliza Samudio's abduction and murder with eight others including his wife Dayane, another former lover, a cousin and former policeman Marcos Santos.
It has been alleged that he watched as Santos tortured her and then helped him to chop her body.
The woman's body has never been found.
The baby, Bruninho, was born in February 2010, but to date Bruno Fernandez de Souza has refused to acknowledge he was the father. Paternity tests have since affirmed that he is indeed the father.
It is understood that de Souza had ordered Samudio's murder after she told him she would take legal action to force him to pay child support.
The child is said to now be in the care of his former girlfriend's mother's possession.
And then there was this comment on the web that made me wonder as well:
this is absolutely disgusting… absolute corruption, from the nation hosting the world cup… Brazilian people must be holding there heads in shame, to the news of this… very very sad…
top image found here
)