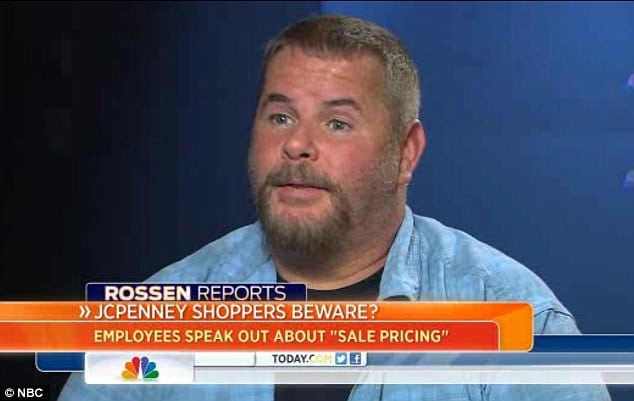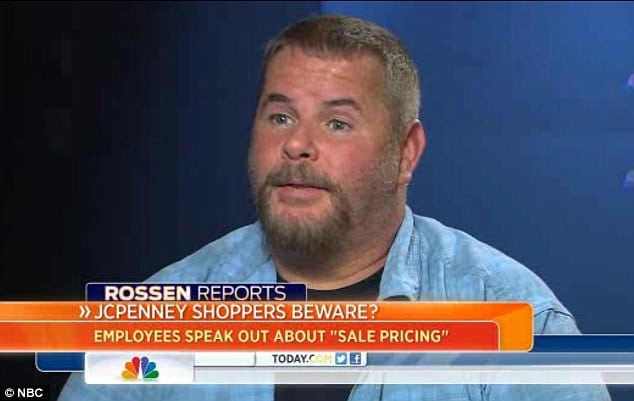 Bob Blatchford, a JC Penney store worker has claimed his former employer fired him because he attempted to expose what he claims are the outlet's fake sales practices.
The JC Penney worker appeared on the Today show last July to disclose how prices were nearly doubled before the same items went on sale at the original price.
After firing the custom decorating studio coordinator, the store filed a petition claiming his statement on their prices was confidential business information.
Bob Blatchford now claims the chain is attempting to prevent him from speaking out more about their sale practices.
When he appeared on Today, he told: 'I saw a lot of pricing teams going through the store, raising the prices, mostly doubling – towels and clothing. Then they would go on sale, and they wouldn't always go on sale for 50 percent off.'
'Not only was it a fake sale, but they were actually paying more than they would have been previously,' he added.
After being fired, Bob Blatchford tried to get unemployment benefits, but his application was contested by JC Penney.
While the price strategy Blatchford talked about is considered by many as an open secret, the store has filed a petition with the American Arbitration Association.
In it, the chain described Blatchford's revelations on Today as 'trade secret, proprietary and confidential business information.'
JC Penney also accused Blatchford of having an 'unbalanced vendetta' against them, as well as a 'love of media attention.'
It told the Huffington Post it was forced to file an arbitration petition to protect customers, and claimed Blatchford had confidential business and customer records.
Around the time of his appearance on Today, JC Penney had reverted to its old pricing strategies after replacing its chief executive, Ron Johnson, who had pledged to eliminate 'fake prices.'
Sales dropped by $4.3 billion and customers of the 112-year-old chain complained.
Johnson's successor reinstated the coupons and sales strategy to win back customers, which led to consumer groups started to investigate the discounts.
According to hufffpo several examples of sales prices that were higher than the original price were found.
One such example was a stainless-steel kettle that had been $40 was priced up at $58 before it appeared in the sale at $39.99.
JC Penney and its retail competitor Kohl's were accused in a lawsuit of violating consumer protection guidelines in California.
However, Federal Trade Commission guidelines say if the price has been offered on a regular basis for a reasonably sustained period of time then the practice is legitimate.
Mark Elwood, author of Bargain Fever: How To Shop In A Discounted World offered that customers are taught to crave discounts, which they becomes addicted to, and they keep coming back for more.
'We are chemically programmed to respond to sales,' the author reflected.
Contemplated Dorothy Crenshaw, CEO and creative director at public relations firm Crenshaw Communications: 'I'm sure they don't want people to be talking about it, It is very likely how many stores operate, but this is much more of a drumbeat around a particular store, at a time that they least need it. They'd love for this whole thing to go away.'
Not that Bob Blanchford is necessarily interested in going away anytime soon…