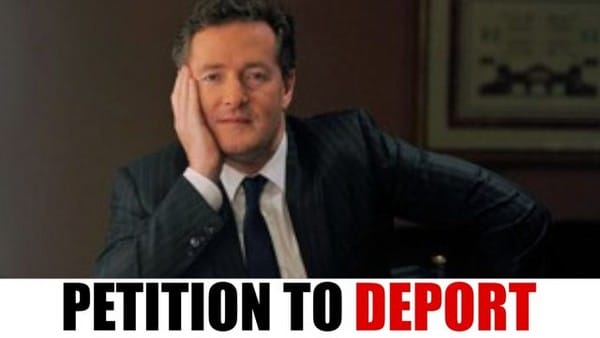 It seems all good things must come to an end and that good thing is Piers Morgan who has been given his marching orders after sustained rancor in his 9pm nightly slot for CNN the Piers Morgan Live show.
It's confirmed. Piers Morgan will not be deported says the White House.
Should Piers Morgan be worried that a petition to deport him has come in front of the White House?
Pierce Morgan slams gun proponent guest. Calls him stupid liar!
Explains politico: CNN President Jeff Zucker has decided to bring an end to Piers Morgan's low-rated primetime show, network sources told POLITICO on Sunday. "Piers Morgan Live" could end as early as next month, though Morgan may stay with the network in another role. Morgan, a former British tabloid editor, replaced Larry King in the 9 p.m. hour three years ago, prior to Zucker's tenure as president. His show earned consistently low ratings, registering as few as 50,000 viewers in the 25-to-54 year-old demographic earlier this week.
Reflecting on why the British media personality, a former newspaper editor failed to catch the type of wind that he'd be hoping for, the nytimes reflected: It's been an unhappy collision between a British television personality who refuses to assimilate — the only football he cares about is round and his lectures on guns were rife with contempt — and a CNN audience that is intrinsically provincial. After all, the people who tune into a cable news network are, by their nature, deeply interested in America.
For his part, the media personality insists it was an issue that audiences were just getting tired of his combative style (isn't that why we tune in the first place?) and his continual reference to gun control.
Told the larger than life British personality who has had his fair share of clashes on the outlet: 'It's been a painful period and lately we have taken a bath in the ratings,'
'I am a British guy debating American cultural issues, including guns, which has been very polarizing, and there is no doubt that there are many in the audience who are tired of me banging on about it.'
Despite his exit, Morgan said he's been in talks with CNN chief Jeff Zucker to perhaps take on another role with the Atlanta-based network
Reflected Piers Morgan: 'I think I can credibly do news and the ratings reflect that, but it is not really the show that I set out to do,'
'There are all kinds of people who can do news here. I'd like to do interviews with big celebrities and powerful people, that are better suited to what I do well.'
Yet it just might be what really ailed the media personality wasn't necessarily his insistence on gun control but the way he was increasingly beginning to present himself to viewers.
 Jezebel:  It might have more to do with the fact that he was one of the most insufferable tone-deaf media personalities this side of Fox News. Just this month, Morgan went on a baffling, seemingly never-ending social media crusade against Janet Mock, who raised questions about the way she was treated during his show. His tactic for getting viewers interested in his shows veered more and more into Donald Trump territory every day. It was all becoming increasingly ridiculous and ultimately, at least for CNN's audience, very boring.
Because being a primma donna might work out if you're a sexy teen celebrity poking her tongue and derriere for the world to see but then again it's an all together another thing when a middle aged man with the table manners of a self entitled despot that he insists he's taking to task becoming the thing and terror that he was warning us about.
1 888 PIERS MORGAN (GUN) CONTROL OUT OF MY LIFE