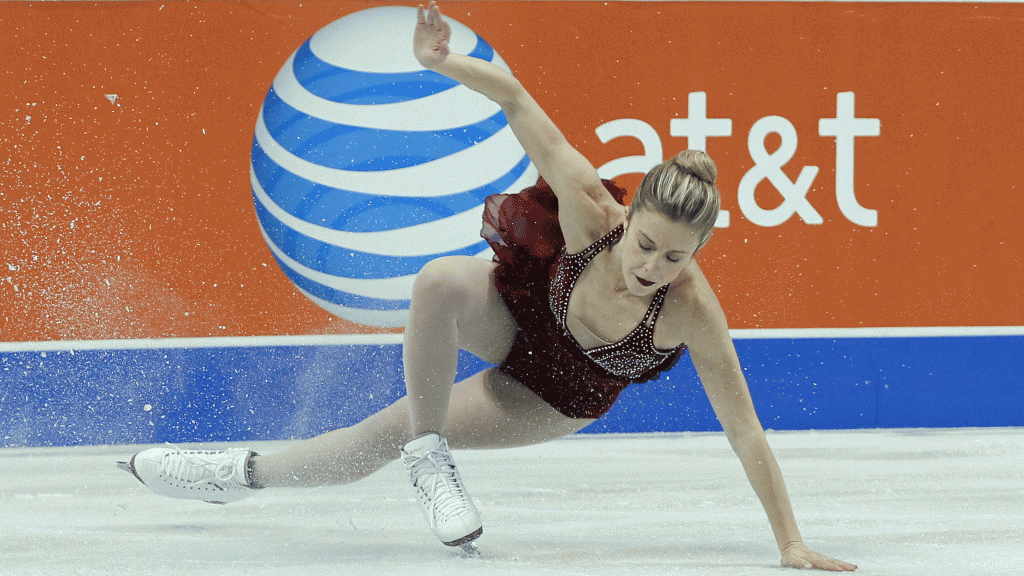 Ashley Wagner, US figure skater was too photogenic to fail?
Controversy has boiled with the recent decision by the U.S Figure Slating Association to choose fourth trial runner up Ashley Wagner over 3rd place getter Mirai Nagasu, who coincidentally happened to be the only skater not to make a major error during this weekend's preliminary team try outs.
Who though made plenty of errors was Wagner who took two disorientating tumbles during her routine, ensuring that she would not be selected to be on the U.S Figure skating team that gets to represent the US in the upcoming Winter Olympics. But that surprisingly that was not to be the case, with many wondering why and how Ashley Wagner actually managed to win a berth over Nagasu?
The move marks the first time the federation has ever bumped a skater from the team who met all the credentials and placed high enough at nationals who was passed over for the Olympics, with Nagasu named as an alternate.
Interestingly the USFSA's went on to defend their decision by telling that it made an 'objective analysis' of the skaters, with Wagner ranked No. 2 in the world by Icenetwork.com before her meltdown.
Told the organization's president, Patricia St. Peter: 'If you look at Ashley Wagner's record and performance, she's got the top credentials of any of our female athletes.' 
Wagner – who slipped under the stands to cry after her performance, fearing the worst – said she was shocked at the decision.
But she thanked the USFSA for 'making the right decision.' Of course one wonders if Nagasu believes whether the USFSA made the right decision as well.
Told the skater: 'I'm happy that my federation was able to see beyond one bad skate.'
Wagner has won back-to-back U.S. figure skating championships in 2012 and 2013—the first American skater to capture multiple titles since Michelle Kwan. She also managed to place 5th in World meets last year whilst Nagasu went on to take 4th place in the Winter Olympics in 2010.
It's not the first time Wagner has faltered, with the figure skater having a reputation of coming undone at every major event where she has competed.
Then there was this anonymous source who told the following via usa: Two people with knowledge of the selection process told USA TODAY Sports that Wagner will be on the Olympic team, 'even if she's 10th.' She finished fourth. The two spoke on the condition of anonymity because the selection process was ongoing.
above image found here
A cursory regard of comments on the web led to some of the following remarks:
That's just how it is … not necessarily what you know but whom you know!
I guess if Wagner comes in 4th at the Olympics she'll demand they give her the Bronze, eh?
Let's see, Ashley Wagner = lots of sponsorships, more marketable, better name brand. 3rd place girl. I can see how this was a easy decision for the board. After all who cares how well you did or what experience you had.
I saw Nagasu's routine, and she did very well. I think the rap on her is that she does more workmanlike stuff and is not likely to be at gold- or silver-medal level at the Olympics, so they picked the skater they thought had the higher upside. But still, it's pretty tough to outskate somebody like this and still be passed over. This is why you should get your kids into golf. It won't matter what people think about what they look like, whether their swing "looks" best, etc. Only thing that matters is the score you shoot. Couldn't be fairer.
If the Olympic sport was determined by a skater's overall "body of work", then Michelle Kwan should have won the gold medal at the 2002 Salt Lake City Winter Olympics, instead of Sarah Hughes. So why did the USFSA selectively choose to ignore Wagner's poor performance at US nationals? As with most sporting events, money and sponsors matter.
NBC lost one of its U.S. Olympic stars when Lindsey Vonn opted out of the Olympics earlier this month due to injury. The TV network, who currently holds U.S. broadcasting rights to the Olympics, was not about to let their other Olympic hopeful, Ashley Wagner slip by either. With all the Wagner publicity that NBC has bombarded viewers with recently, how could they?
It is heartbreaking that Ashley Wagner skated so poorly at nationals, but denying Mirai Nagasu a spot that she earned does not right the situation. Sports are about rising to the task when the pressure is on. Mirai did that, including in the 2010 Olympics where she delivered a beautiful, clean program. What message are you trying to send to young athletes? That the rules are not the same for everyone? That it's not worth showing up to compete because the results get ignored?"
Here's what bothers me. Wagner could've finished 8th and she still would have been chosen because of her 'body of work'. Mirai could've finished 2nd and still would have been passed over. She basically had to be #1 or get cut. How fair is that? All 3 skaters were chosen before the Nationals. The entire event was a sham. Mirai never had a chance of going to Sochi