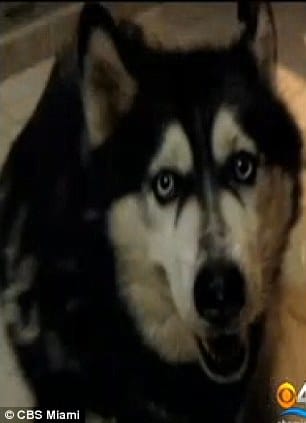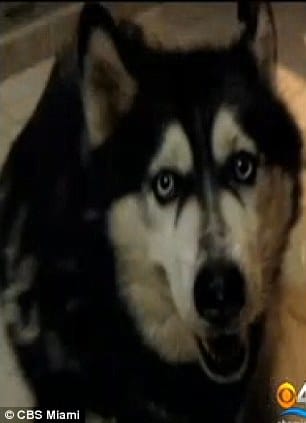 A 60 pound pet Siberian husky has died after a 10ft python slithered into a Florida family backyard and put the family dog into a death grip.
At the time, the dog's owners went on to call authorities after they saw the African rock python coiling around their pet's neck on August 30th.
Yet within five minutes of having called authorities, the Siberian husky, Duke was dead.
The news of Duke's death comes off the back of a rock python having escaped from a Canadian pet store and killing two toddler boys, Noah and Connor Barthe last month.
Authorities have since gone on to disclose that they could not ascertain when the rock python had slid into the family backyard, in an area southeast of Tamiami Trail and Krome Avenue in Miami. 
Told the homeowner who has since refused to give out their name that her son tried to kill the snake.
'He tried to take it away from his neck with his hands, his bare hands,'
"It was so strong, he couldn't do it. He ran out inside, he got gardening scissors. He tried to cut it off. It didn't work.'
While the family has wished not to be identified, CBS Miami reported the attack happened at the family home of accused murderer Jose R. Rojas.
Rojas was charged with the torture and murder of his boss and a co-worker last year.
According to the Miami Herald, an off-duty fire captain and reality TV star, Charles 'Big Country' Seifert of the Animal Planet show 'Swamp Wars,' managed to capture the python, which was later euthanized.
Nevertheless there have been questions as to whether the python struck first or if in fact the husky attacked the python after firefighters went on to find two bite wounds on the python's neck.
Told one of the firefighters, Captain Jeff Fobb of Miami-Dade Fire Rescue's Venom One unit:
'It's difficult to tell if the snake attacked the dog,' 
'A snake would've had trouble eating a dog that size, so it might've been a defensive move [after the dog attacked the snake]'.
Local media go on to tell a colony of North African pythons was discovered in 2009, and 27 have been captured since then. The recent death comes off reports that the immediate vicinity where the husky's death took place has seen a recent influx of breeding of python snakes.
Wildlife officials have gone on record to tell that pythons could reproduce to the point where they can no longer be controlled.