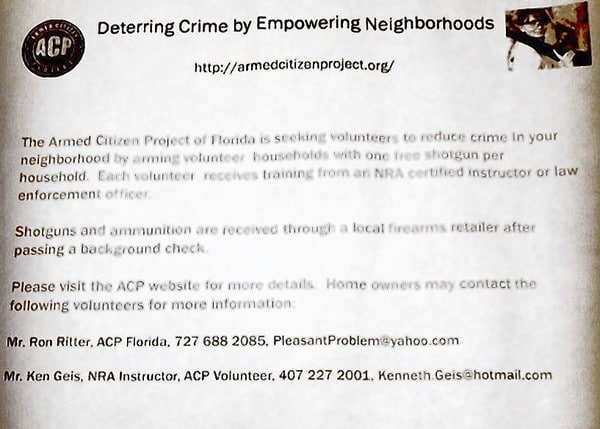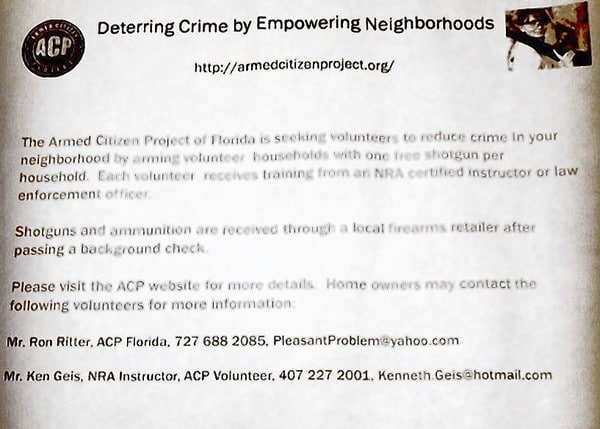 Feeling safe? Gun rights group, The Armed Citizen Project has decided to offer free shotguns and ammunition to residents in one Orlando, Florida neighborhood.
The group, an offshoot of a Texas group whose website tagline is "Deterring Crime by Empowering Neighborhoods" — tells the orlandosentinel left leaflets on doorsteps throughout the Sunshine Gardens neighborhood Sunday seeking "volunteers to reduce crime in your neighborhood."
The neighborhood according to statistics is not known to be a high crime area.
Reflected one local resident, Cathy Rogers: "That's what really cracked me up,"
"I've never felt unsafe in my neighborhood. I just feel like they're preying on people's fears."
The flier goes on to outline the offer to arm "volunteer households with one free shotgun…and ammunition" through a local firearms retailer "after passing a background check."
Goes on to tell the group's facebook page: Our goal is to provide direct empirical evidence that can identify any statistically significant relationships, and possibly even prove a causal link between crime and responsible firearm ownership.
The Armed Citizen Project is dedicated to facilitating the arming of law abiding citizens, and analyzing the relationship between increased firearm availability and crime rates. We intend to choose a mid-high crime neighborhood in Houston, and offer defensive weapons to citizens that can pass a BG , and that will take our safety, legal, and tactical training.
Florida ACP director Ron Ritter went on to tell to date the newly formed group has to date yet to give away any arms out, nevertheless the group is in the process of obtaining nonprofit status and contacting gun shops as well as NRA instructors who would be willing (naturally) to donate shotguns and training.
Reiterated Ritter: "This is perfectly legal because we're offering a certified gun instruction class, but we're not handing out the shotguns whatsoever,"
"These guns have to be transferred through a [federally licensed firearms] dealer."
Nevertheless the contention that holding arms will keep violence at bay does not match empirical studies. Case in point a new study of gun violence published by the American Journal of Public Health which found that states with greater levels of gun ownership tend to have higher rates of gun-related murder.
Local residents have since gone on to tell that the area is bereft of serious crime except for occasional burglaries and property crimes.
Residents have also openly wondered why their peaceful enclave has been targeted by the The Armed Citizen Project.
The ACP's flagship Texas chapter was founded in January in part to arm single women and residents of high-crime neighborhoods.
Its founder, Kyle Coplen, told The American Free Press that he hoped to train and arm 1,000 volunteers by year's end. The first class of 10 graduated in May in Houston, according to that article.
The sentinel goes on to mention that the group's volunteer for the Orlando area, Ken Geis has yet to respond to media queries.
America becoming more violent in order to keep the violence at bay…