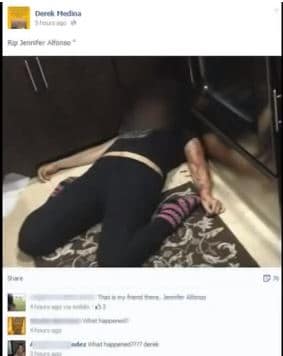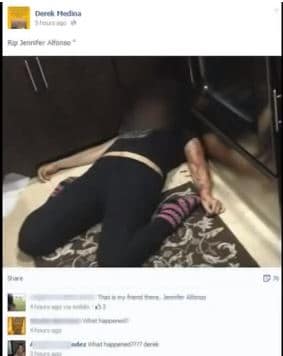 A man who had gone on to shoot his wife in front of their ten year old daughter and posted a photo of her bulled riddled corpse on facebook has calmly turned himself up to authorities.
At the time of the confession, authorities went on to note that Derek Medina, 31, calmly, without a care in the world walked into a Miami police station to confess to the murder of his wife, Jennifer Alfonso,26.
The surreal scene would end up being caught on surveillance video and has since gone on to cause many to gasp in shock and wonder at the man's seemingly nonchalant disposition and the callousness nature of the crime and why he chose to post Alfonso's deceased image on facebook.
Wearing a tank top and jeans, Medina is seen calmly strutting in to the South Miami police station with his father whilst asking to see an officer.
From there, Medina taps his fingers on the counter then sits down, leans forward with his hands clasped and stares out the door, leaving his father to nervously pace back and forth. It is not necessarily understood if Medina's father was aware of his son's impending confession.
What happens next is not shown.
From there Medina went on to admit to killing his wife after she told him she was leaving him.
Medina and Alfonso had argued violently in their South Miami townhouse, with going on to tell Alfonso pulled a knife and punched him, before shooting her dead.
Since the confession, Medina has been ordered held without bail and put on suicide watch.
The arrest papers were his second confession — his first allegedly came soon after the slaying, when he posted the photo of Alfonso's corpse along with the words: "I'm going to prison or death sentence for killing my wife. Love you guys. Miss you guys. Take care. Facebook people you'll see me in the news."
One can perhaps wonder in choosing to portray his wife's deceased riddled body on facebook, Medina sought to publicly humiliate her in the same way he may have felt humiliated when she opted to walk out on their marriage and purportedly abused him during their marriage. That said one wonders in a forum often used to share positive news, Medina was simply wanting to share the news of his latest acts which saw him have the last word…