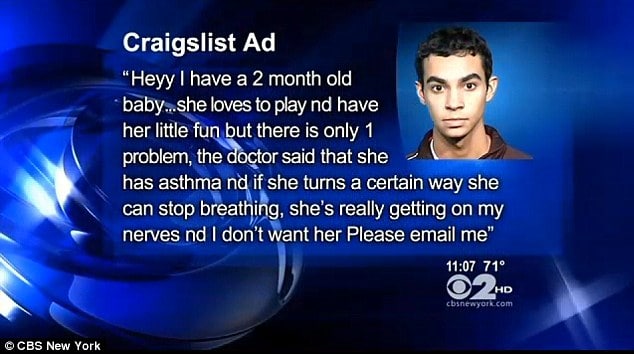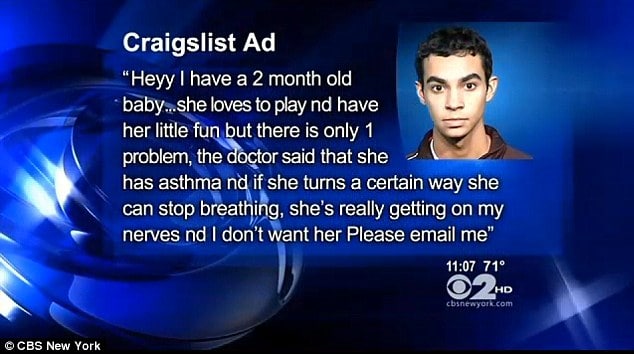 Paul Marquez, a 22 year old Staten Island man miffed that his new his new girlfriend wasn't paying attention to him tried to sell her two-month-old daughter on Craigslist for $100 – and someone even called offering to buy the baby.
At the time, Marquez went on to place a mistake laden ad onto the 'Baby and Kids' section of Craigslist, including his girlfriend, Katie Devalle's number and a picture of the baby.
Inevitably Paul Marquez would go on to be arrested this past Thursday after two users of Craigslist independently phoned police. At present Marquez is being held on $1000 bail.
Marquez is now charged with harassment and endangering the welfare of a child. He is also charged with a social service violation of authority to place or board out children. If convicted he faces up to a year in jail.
Read the ad: 'I have a 2-month-old baby, she loves to play and have her little fun, but there's one problem, doctors say she has asthma and if she turns a certain way she can stop breathing. She's really getting on my nerves and I don't want her.'
Naturally the ad also included pictures of the baby.
Marquez has since gone on to tell that he placed the ad 'to get back at Katie' who in Marquez's estimation was not paying him enough attention. Not that babies don't require their own level of attention either…
Went on to tell Marquez to authorities: 'The reason I decided to put this post was because I got bored and wanted to get a little laugh and a little kick out of it, but nothing serious.'
Told a law enforcement source: "Marquez had been chatting with the child's mother online, and the two had been out a few times."
"He was apparently upset she wouldn't pay him more attention and posted the two ads as revenge," the source said, adding, "[The mom] didn't have time for him. She was working all the time."
It is understood that the mother besides attending to the responsibilities of the child was also fully committed at work, which served to make Marquez feel slighted.
Incredulously one individual went on to contact the mother about the baby, although to date authorities have yet to determine whether this was serious offer or just a prank response.
In 2007 and 2008, Marquez was busted on the larceny raps and pleaded guilty to disorderly conduct in both cases. He was given a conditional discharge and several days of community service.
Interestingly Marquez's Legal Aid lawyer, Tamara Giwa, has declined to return calls to the media  for comment.