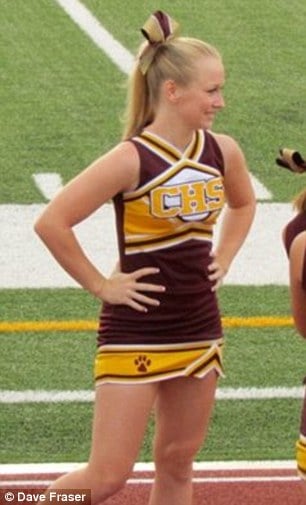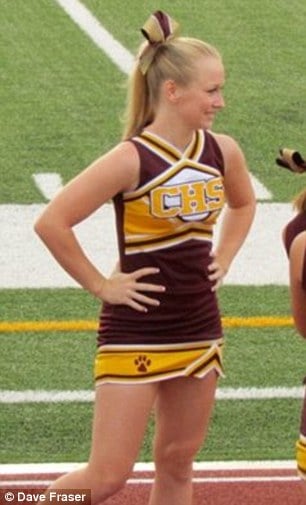 Countryside High School in Clearwater, Florida has gone and pissed off cheerleader students and their parents after it decided to ban the school cheerleading uniforms for being too risque.
The school has since gone on to ban cheerleaders from wearing the uniforms to school on school spirit days, this despite the fact that the cheerleaders wear the uniforms in front of thousands of fans at football games.
The decision by administrators has since gone on and left many parents scratching their heads and has upset many of the cheerleaders – who say wearing uniforms on the Fridays before games is important for school spirit.
The uniforms, which include short skirts and sleeveless tops, were deemed inappropriate for class last week when school administrators reexamined dress code requirements.
Told one of the cheerleader's mothers, Christine Johnson;
'If it's an approved school uniform – which it was approved, by the administration, years ago – why is it out of dress code?'
'And why can they wear it in front of thousands of people at a football field if they can't wear it on game day at school?'
Told another parent, David Fraser of his daughter Jeana Fraser:
'She takes it very seriously,"
'She likes the uniform. She's proud to be a cheerleader.'
Reacting to the criticism, Countryside principal Gary Schlereth went on to say that he realized at the football game on Friday that the cheerleaders' shirts were too short for school.
He also went on to say it wasn't fair to students who weren't cheerleaders to see some students exempted from the dress code.
Countryside requires students to wear shirts with sleeves. Skirts have to fall to mid-thigh.
Letting the girls wear their uniforms creates a double standard, he said. The district's dress code requires that shirts have sleeves and skirts fall to at least mid-thigh.
"A parent looks at their son or daughter getting 'dress coded' for wearing something short, then they look at the cheerleading uniform and they say, 'What about that?' "
While he explained away the uniforms as "spirit wear" in the past, Schlereth felt it wasn't fair anymore.
Other Florida high schools had already banned cheerleading uniforms from classrooms for the same reasons.
Then again perhaps what's really more hypocritical is the sexualization of young teenage females whilst at the same time trying to assert moral codes of appropriate behavior, stuff that might work here and there on school grounds but if wider culture is an indicator, such mores quickly fly out the window during a casual stroll in front of the town billboard…