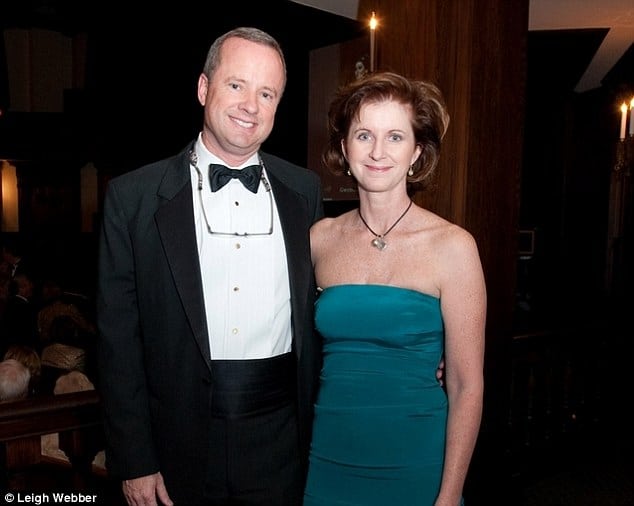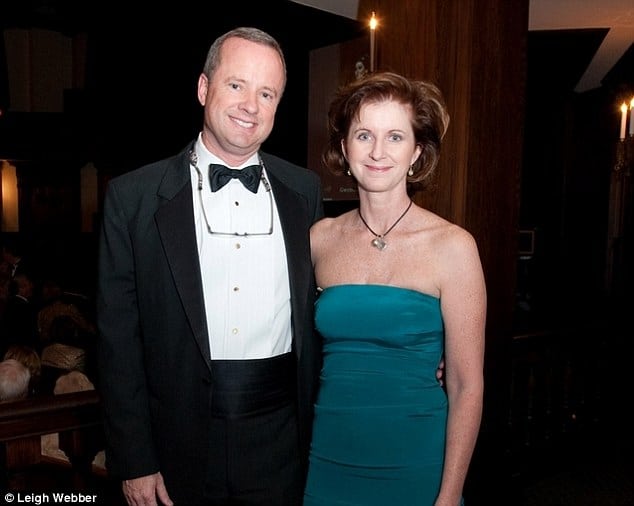 Christopher Latham, a former South Carolina, Bank of America executive, has been charged with plotting to hire and kill his estranged wife of 24 years amid a contentious divorce.
The charges come after Latham was charged along with four others, including his live in girlfriend, Wendy Moore.
To date Christopher Latham has pled not guilty, whilst his estranged wife, Nancy Latham has gone on to express relief that the alleged plot was covered in time.
Told Nancy Latham to WCNC: 'It's not by any means celebratory. It's not celebratory for my children.'
The UK's dailymail goes on to tell that the alleged contract killing plot was uncovered back in April when Latham's four alleged co-conspirators were arrested and charged with conspiring to kill Nancy Latham.
Last Month, Nancy Latham in an affidavit went on to tell she suspected her husband of being part of the murder-for-hire plot. Chris Latham, formerly a high-powered executive with a $683,000 annual salary, has previously denied any involvement in the case.
Nancy Latham said that when the alleged plot has been uncovered, she and her daughters went into hiding for two months – a time that was spent looking behind her shoulder and living in fear.
The accusation of the plot to hire and kill is said to have come off the back of previous claims of adultery and other misbehavior by both Christopher and Nancy Latham. Which is to say shit was uneasy before the purported plot was unearthed.
Reflected Nancy Latham: 'We've been married for 24 years. How do you reconcile the idea that this person hired someone to kill you?'
Prosecutors have since gone on to tell that Christopher Latham gave Wendy Moore, 37; Samuel Yenawine, 38; Rachel Palmer, 36 and Russell Wilkinson, 39, a $5,000 down payment and a file on his wife, which contained her photos, daily schedule, divorce hearing documents and other personal information.

Yenawine committed suicide in June while being jailed. Moore, Wilkinson and Palmer pleaded not guilty in May.
According to court documents, the murder-for-hire plot was set in motion last March, but fell apart April 5 when Wilkinson was pulled over during a traffic stop in Charleston.
Responding officers allegedly discovered a gun and a box of ammunition in the car, at which point Wilkinson came clean about the plan to kill Nancy Latham.
Wilkinson's confession led to the arrests of his three accomplices. The investigation culminated with the apprehension of Chris Latham, who was taken into custody at around 7pm last Tuesday while on vacation in Salem.
Nancy Latham has since surmised that her husband would have benefited greatly from her death. Had the plot worked, Christopher Latham and his girlfriend, Wendy Moore, who worked as his secretary at Bank of America, could have kept their illicit relationship secret in order to save their jobs since it was against company policy.
Told Nancy Latham in her July 12 affidavit: 'He had an affair with his secretary and got caught, and she hired people to kill me to keep me from testifying about it.'
Live5News.com | Charleston, SC | News, Weather, Sports
Upon having come under scrutiny, in the spring in connection to the plot, Bank of America gave Chris Latham a choice of resigning, retiring or being fired. Disgraced, Latham, chose to retire in May. This despite Latham not being implicated by federal authorities at the time.
A Charleston County Family Court judge last month allowed Chris Latham to dip into his savings to help pay $8,500 monthly support to his estranged wife.
But the judge denied the former bank executive's request to cut off or reduce his payments to her.
Interestingly, Latham went on to seek an order of protection against Nancy, in late April, claiming that she and her half-brother, who was convicted in the 1970s of murdering three people, wished to harm him.
His request filing on April 30 came one day after Nancy filed her own protective order, claiming that her husband was involved in, or at least aware of, a plot of her life.
In June, Mr Latham said in an affidavit that his wife has been on a mission to destroy him and ruin his career, leaving him without a job, without money and without any prospects of employment. An assertion that Nancy Latham vigorously denies.
Nancy Latham has gone on to say she's relieved her estranged husband is in jail. Can anyone guess why?
.