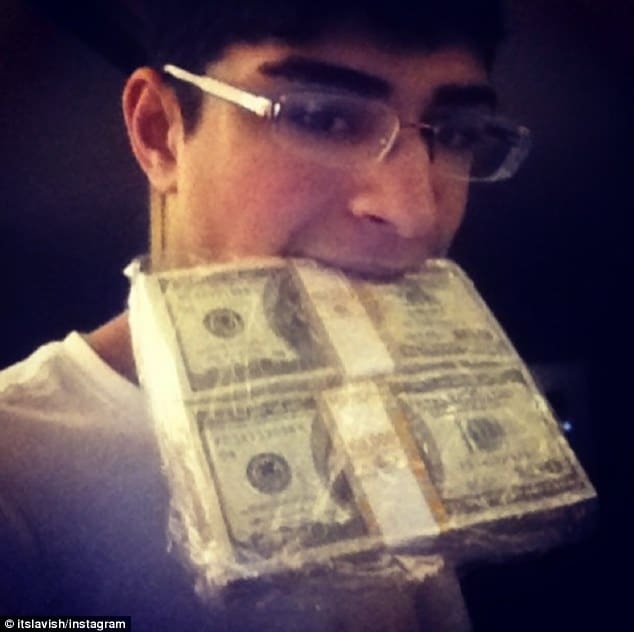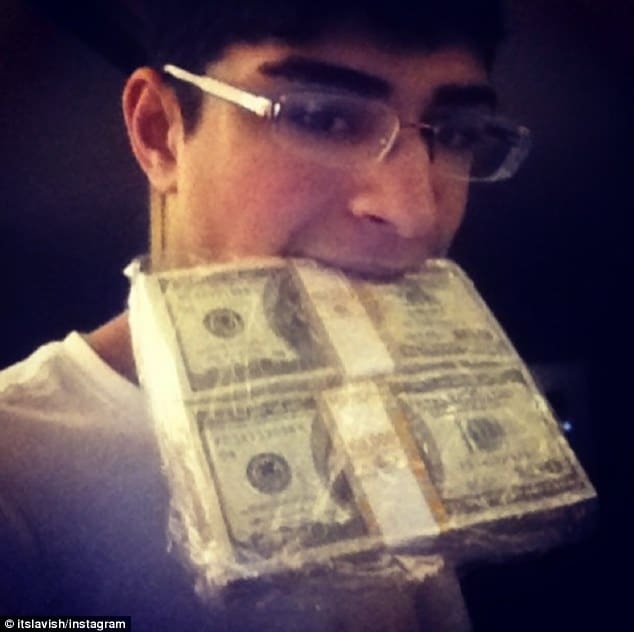 Lavish P a 17 year old teenager from San Francisco has become an instant celebrity, this after feeding his instagram account with incredulous images of the young man partaking in his wealth that most could only imagine in their wildest dreams.
The images posted here, go on to show the teen bathing in cash, flaunting designer buys and tying wads of dollars to helium balloons.
Bragging about his supposed wealth to his 60 000 followers on instagram and 20 000 twitter followers, questions remain as if whether Lavish P is simply a super rich teen or just an internet troll.
A list of Lavish P's life struggles read as follows:
'getting his arm hair caught in his 'new 89K Rolex' and 'not being able to read the menu at a five-star restaurant due to the 'ambient lighting.'
The young man even complains 'his mansion so big his wireless internet does not cover all of it.'
Writes the young man on his personal website from the third person: "…. wealthy teenager from San Francisco, with a life which is 'like Louis Vuitton – everyone wants it."
As well as adding that he Playing Polo and Golf are his favorite past times. Sipping cappuccinos in his multi-million dollar penthouse, he loves taking balling to a whole new level.
'Your life saving are considered pocket change to him.'
And what motives Lavish P to set the record straight you wonder?
Tells the site: '…the reason for the flash is 'because many peasants don't understand what true luxury is'.
Peasant, a favourite word of Lavish's, is how he describes the large majority of the population who does not share his luxurious life style, which according to Lavish also includes Kim Kardashian.
Goes on to post a rant at our collective hero, Kim:
Lavish flaunts his wealth in a number of ways, including doing 'cash give aways' and tying wads of cash to a balloon before watching it disappear in the sky.
He also claims only to go to the bathroom if the toilet is filled with sparkling water, which he allegedly also uses to wash his hands.
Although most people keep their money in the bank and pay by card, Lavish is a big fan of cash.
When he is not busy giving it away on Instagram he posts pictures where he bites it, uses it as a pretend phone, or 'bathes' in it.
Yet not everyone is necessarily buying into Lavish P's story. Some have accused him of simply being an arts project to a successful internet troll. Either way one almost suspects whether Lavish P is real or not there is a demand and a desire for him to be real and it ought not surprise us to realize that there are a few Lavish P's right now living the hog but who at least have the good wisdom to keep their mouth shout. Unless of course conspicuous consumption or the feeding into its perception is really the new barometer of social standing…?