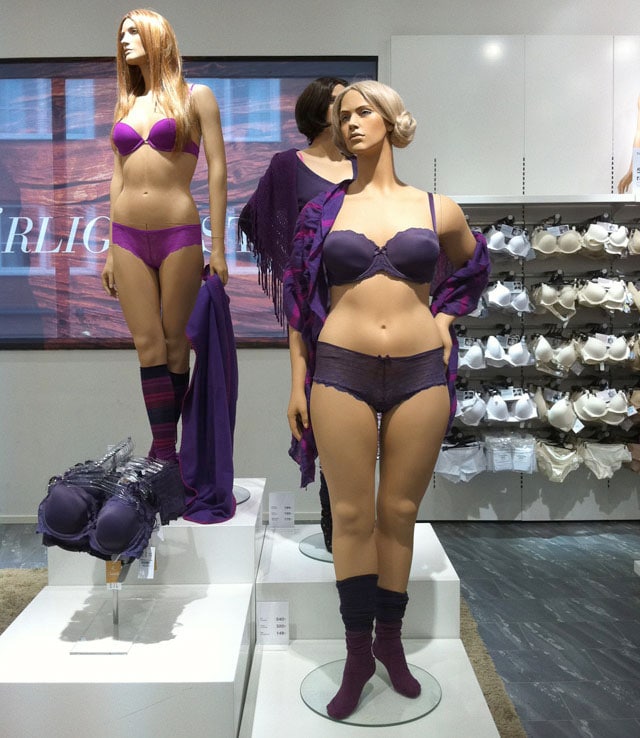 Swedish department store Åhléns' choice of a less than uber thin mannequin for its outlets has got fashionistas talking. Talking because the chain has forgone the temptation to show the typical skinny rut girl that we've all been getting used to being told is uber beautiful.
good.is: A department store in Sweden is bucking fashion's super skinny model trend by presenting clothing and accessories on…get ready…normal sized mannequins. Last week, this Facebook photo went viral, showing a display at Swedish retailer Åhléns whose model was between a size 12 and 16 (the average woman is a size 14). As of today, the photo has 130,000 "likes" and just as many shares. It's easy to see why the image resonates with so widely: for many, it's a relief to see an example of marketing that celebrates a real woman's body, curves and all.
A real woman's body? Then again what is a real woman's body? Is it something that we get to see over and over on billboards and magazine covers or what we actually get to see in real life? Or is that all just another way of saying over time if we keep repeating a certain aesthetic in the media that too becomes the desired norm (even if it makes so many young women turn to horrible starving techniques and neurosis, cause we all have to remember a woman is worth shit unless she looks the part, right?).
According to a survey 3/4 teenage girls feel depressed, guilty and shameful after spending three minutes leafing through a fashion magazine; not to mention that 80 percent of 10-year-olds have been on a diet at some point. That's because they are exposed to unrealistic imagery that's next to impossible to compete with, primarily because most of these "perfect" bodies have been photoshopped. Just like the idealized images that are seen in magazines, the effect is the same for women and girls when faced with store display mannequins with barbie-like bodies. 
Which raises the question, what can we expect going forward in the fashion/retail stakes? A predisposition to idealized forms (which probably implies that fantasy and desire propels spending habits) or an effort to take the time to acknowledge what really goes on outside of fashion pages?