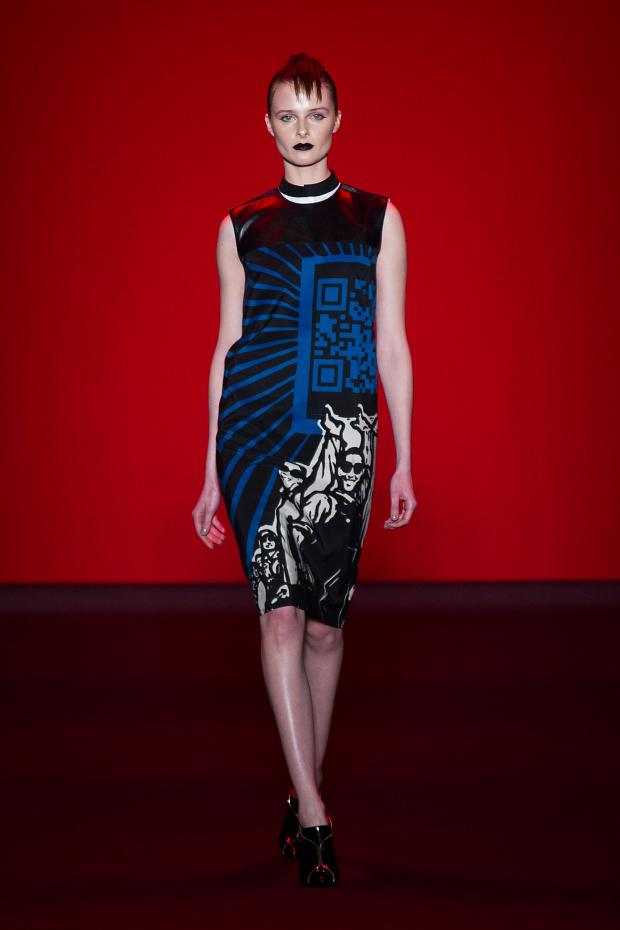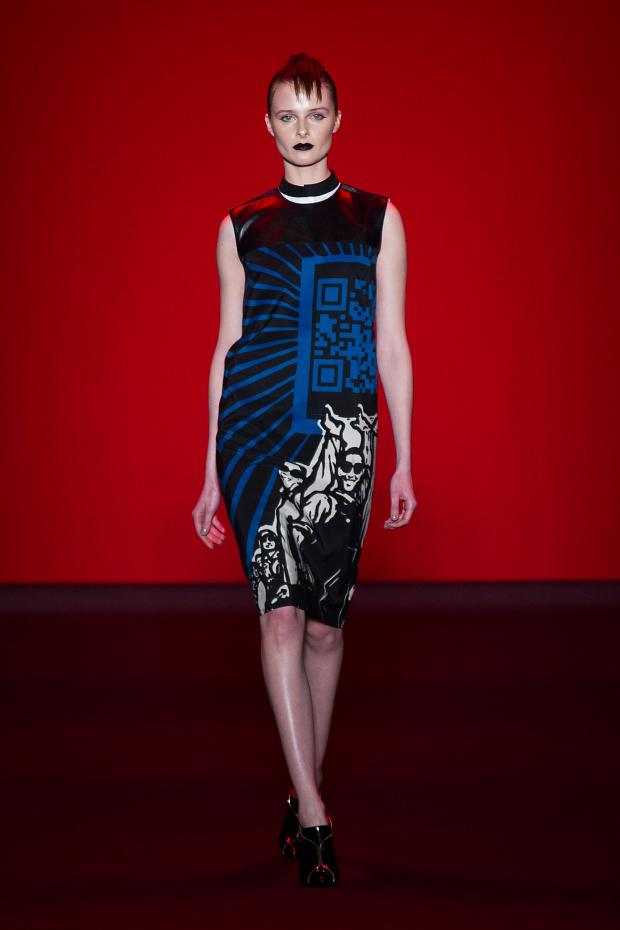 Like a sleek bob and a slinky black dress at a Miss America pageant, Vivienne Tam's 2013/14 fall collection rendered the bright, feathery things of the front row obsolete. Dramatic red lighting set the stage for a methodically paced show: the models walked slowly and deliberately to rhythmic beats that were high energy but never frenzied. There were even pauses between each model, during which every audience member frantically checked their smart phone.
The whole collection was reminiscent of a Hot Topic circa 2001, only without the teenage angst, questionable piercings and inescapable mall smell. The models sported Samurai inspired French twists and black lips and dark brows were etched onto their Goth pale skin. Plaid, leather, asymmetry and black and white graphic prints featured heavily.
The accessories were streamlined punk: oversized black leather clutches, patent heels with gold zipper details and big, black loafers and boots. The boots, along with a fighter pilot style romper, lent a military feel to the collection, which Tam described as "China Chic". How fitting then, that this collection ushered in the year of the snake.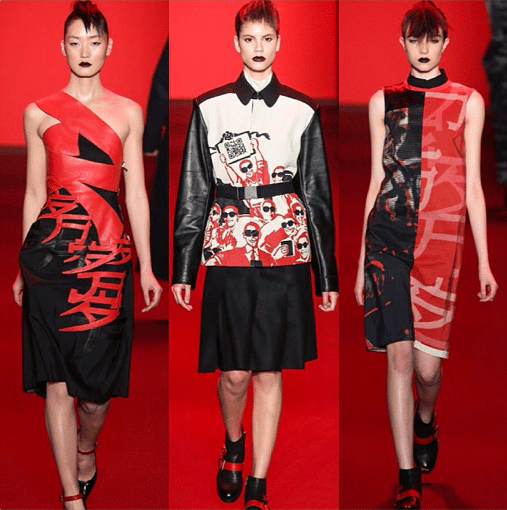 Tam, who is local to New York by way of Hong Kong, has always bridged the gap between her two countries, since she debuted her first collection in 1994. Since then she has built a powerhouse of a brand, collaborating with major retailers and corporations while helming several design labels and artistic ventures. It seems only natural that as her brand grows, international inspiration beyond New York and Hong Kong would manifest in her work.
The prints on Tam's dresses were political and varied: one had the writings of Mao Zedong and one was called " Pop Culture Obama".  And London has been calling throughout this season's collections, and Tam's show was no exception. Plaid pants, leather pleated skirts and Mod shifts with high collars made the models look like the love children of Twiggy and Johnny Rotten.
Normally the aforementioned high collars would be considered a blessing, since you could put an eye out with the average runway model's collarbones, but these girls brought nominal curves to Tam's streamlined designs. Whether they were natural or padded, it added an unexpected sex appeal to the shifts and military style outfits. Bandage and bondage-style details emphasized miniscule waists. In the end, Tam's finale looked like a convention for the coolest girls in any given NYC dive bar: no septum piercing required.
below image found via twitter