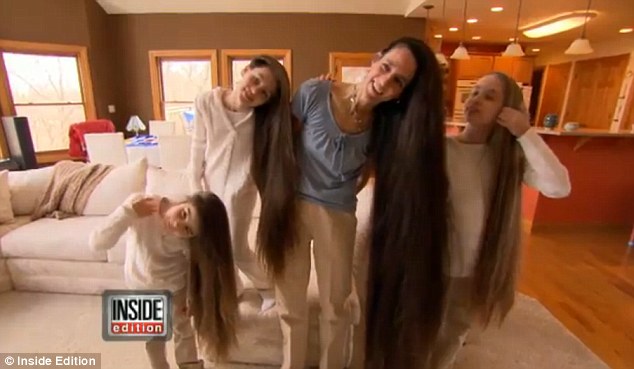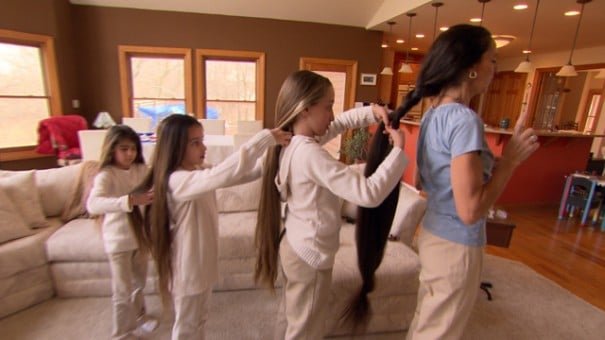 Hair that nearly touches the ground. Could they be they the real life Rapunzel?
Acknowledges 43 year old Terelynn Russel who lives with her husband and three daughters in a suburb just out of Chicago with respect to her all the long hair that she and her daughters are pluming these days:
'You have to have patience to be in this house with all of this hair.'
The statement comes as mother and her daughters are part of a special courtesy of CNN's Inside Edition where the extraordinary length of their hair is the main draw.
Yet whilst existing with long hair might be a penultimate joy and helps accentuate mother and daughter's femininity ( Terelyn Russel already has hair that is 6ft long and her daughters aren't too far behind) maintaining long luscious locks comes with some necessary managing rules.
When it comes to being in the kitchen all must keep their hair up, especially around the stove. Russel goes on to admit that she once stepped on her hair as she was getting up to change her youngest daughter's diaper.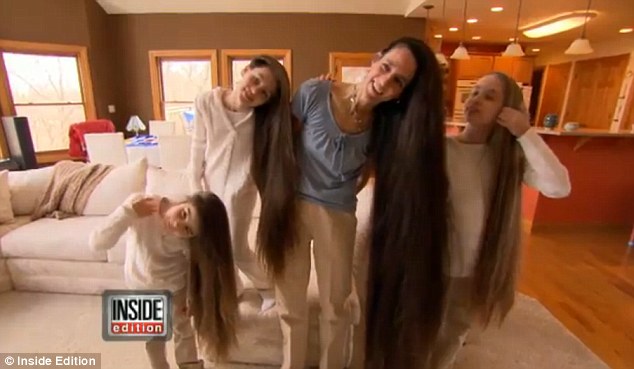 Other necessary criteria include the use of massive amounts of shampoo and conditioner to keep up the health of one's hair (which can't be too cheap either).
And how long has the practice of having long hair gone on for?
'My earliest memory of the shortest hair would be when I was four years old starting kindergarten and it was down to my waist,' tells Russel.
'To me, short hair would be just above my waist.'
Which poses the question is it all just about keeping up appearances and enjoying one's ability to grow luscious locks or is it something to do with perhaps overcompensating for other things lacking in life? Then again perhaps it's all just an extreme desire to assert one's femininity even if one wonders if all the effort and expense is necessarily worth it…?