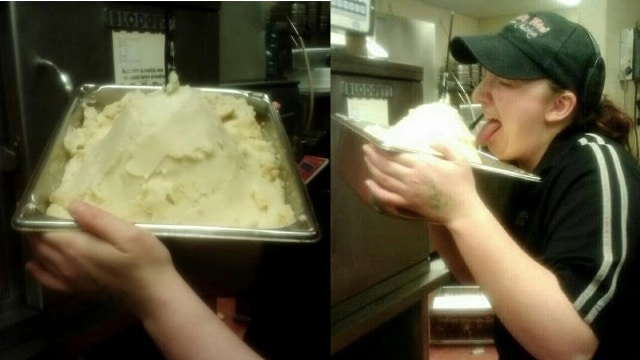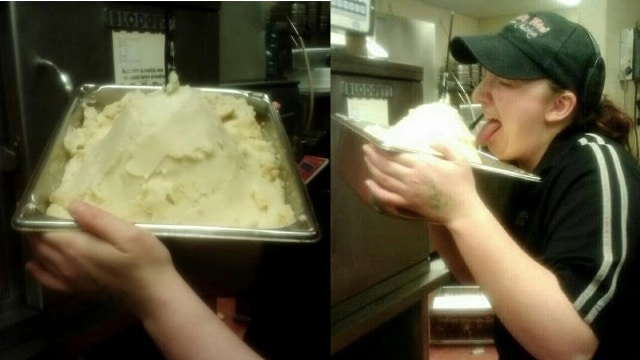 This is the best way to get fired from your fast food job.
A photo posted by a KFC employee sticking her tongue in a tub of mashed potato in the shape of a breast has gone viral after the employee posted it on Facebook.
With the photo's subsequent rise in popularity questions were raised with respect to the employee's actions (ie had that bixch been fired yet?) and what the store planned now to do.
This of course led to corporate headquarters drafting a statement extolling how important food safety and hygiene means to them. Not necessarily the employee though.
Said the statement:
Nothing is more important to KFC than food safety. As soon as our franchisee became aware of the issue, immediate action was taken. The franchisee's investigation confirmed the photos were taken after the restaurant was closed and none of the food was served. The employee involved was immediately terminated. Today, KFC Corporation is sending representatives from our Operations and QA teams to the restaurant to reinforce and retrain on KFC's high operating standards.
Rick Maynard
KFC Spokesman
Louisville, KY
Corporate headquarters has declined to name the individual in the photo and have gone on to say the individual who took the above photo was also fired. They went on to stress they were not managers.
A spokesman told the Johnson City Press that operations and quality assurance teams had been dispatched to the restaurant by corporate "to reinforce and retrain on KFC's high operating standards."
Kids tell me you're not craving for a widget of KFC mashed potatoes right about now?
[Photos: WJHL]
WJHL-TV: News: Weather, and Sports for Johnson City, TN