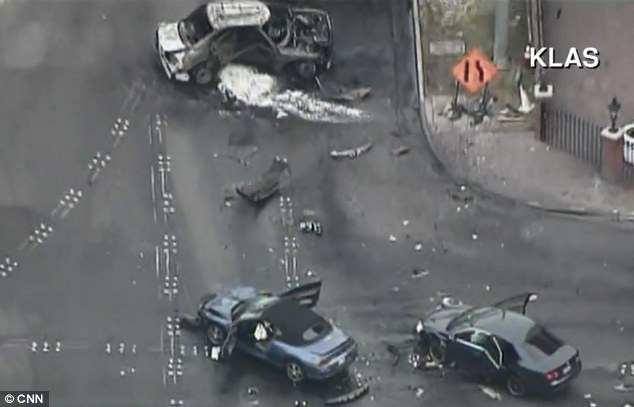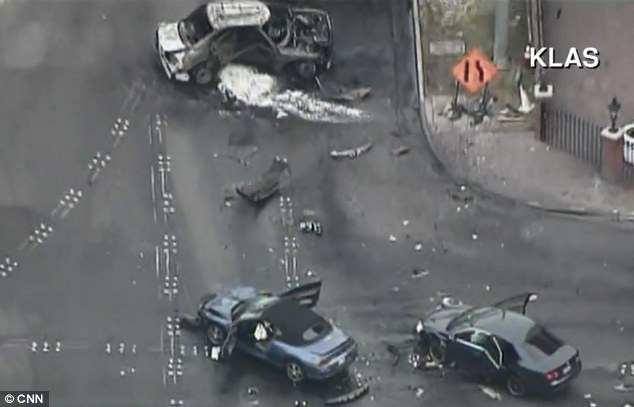 Authorities are still seeking the individual(s) said to be responsible for a shoot out this morning at a Las Vegas strip that left up to three dead and four injured after colliding automobiles were involved.
The shooting occurred circa 4.20 am when a gunfire rang out of a black Range Rover and into a black Maserati that saw 3 dead including the driver of the Maserati  and that of a taxi driver and his passenger who were  killed after crashing into the Maserati. In total up to 6 automobiles were involved, with up to 4 individuals injured.
Local reports tell how the Maserati slammed into the taxi at the intersection of Flamingo and Las Vegas boulevards, after been shot at, causing the taxi burst into flames.
At least three people were hospitalized, including a passenger from the Maserati. Police said that one of the Maserati passengers is being treated at a local hospital for gunshot wounds. No gun shots were fired from the Maserati.
At present authorities have yet to apprehend the gunman who is said to have made a getaway and be armed and dangerous.
After reviewing traffic cameras Las Vegas Police Sergeant John Sheanan offered the following: 'We have a lot of pieces to put together to establish a timeline as to why this confrontation occurred."
One theory is that the high speed gun battle is that it could have started after a dispute broke out at a nightclub.
Offered one British tourist, Mark Thompson: 'This doesn't happen where we come from, not on this scale,' he told the Associated Press.
'We get stabbings, and gang violence, but this is like something out of a movie. Like "Die Hard" or something.'
The strip where the incident took place is surrounded by some of the most illustrious casinos and hotels in the vicinity, including the Bellagio, Caesar's Palace and Bally's.
Offered Jeremy Handle, a spokesperson for the Las Vegas Convention and Visitors Authority:
'Recent incidents, while unfortunate, were isolated events. Las Vegas is among the safest travel destinations in the world and utilizes the most advanced technology and training to maintain a secure environment."
Police said they were contacting authorities in three neighboring states about the Range Rover Sport with tinted windows and paper dealer ads in place of license plates that fled the scene
Welcome to the fast rough and tumble life of Las Vegas where the excitement has once again returned to outside the roulette table…
The UK's dailymail goes on to note that the shooting is the latest in a series of violent actions on the tourist corridor since the beginning of the year.
Two people were critically wounded in a shooting at a parking garage February 6, and a tourist was stabbed in an elevator at The Hotel at Mandalay Bay February 16.