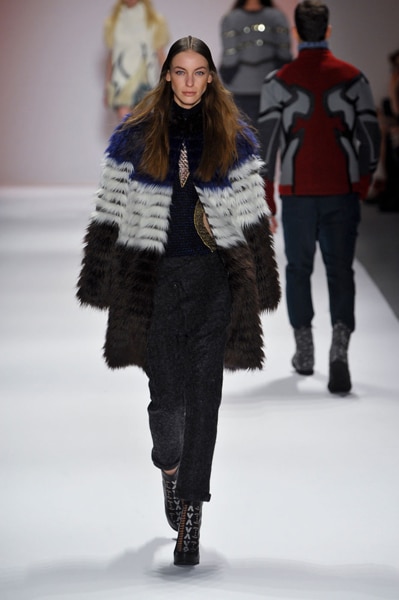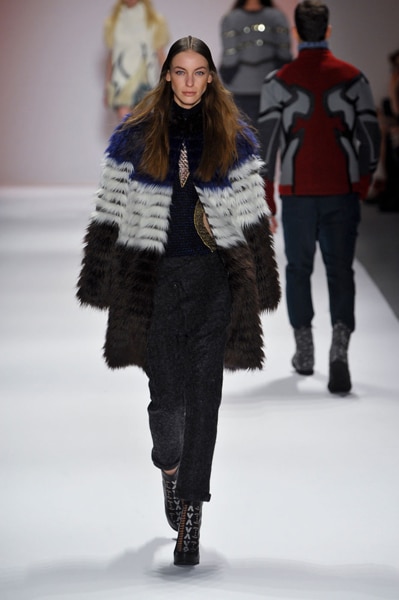 Custo Barcelona's fall 2013 line had some hooded fur jackets and vests that I would literally almost kill a small child for…
The fall line, which must have been inspired by glam, meets Native American, meets tufted rugs…came together flawlessly.
The intricate dresses with detailed cutout backs were adorable, and the backpacks proved as pieces that I would love to wear THIS instant.
Each piece of clothing that shuffled down the runway was more unique and weirdly beautiful than the last, and left me pondering which celebrities would have the gall to wear a Barcelona item to their next public appearance.
The coats, hooded and riddled with countless different textures and tones, stood alone as statement pieces, and would make even the most simple jeans and tee-shirt combination come to life.
Men can even look forward to this line, as Custo Barcelona has offered them nylon ties, along with fuzzy suits, that are capable of being both odd and attractive at the same time.
Ultimately the line projected a collection that could be both bizarre and gorgeous at the same time…pushing the boundaries yet maintaining a unique, natural feel.
Below images found via twitter