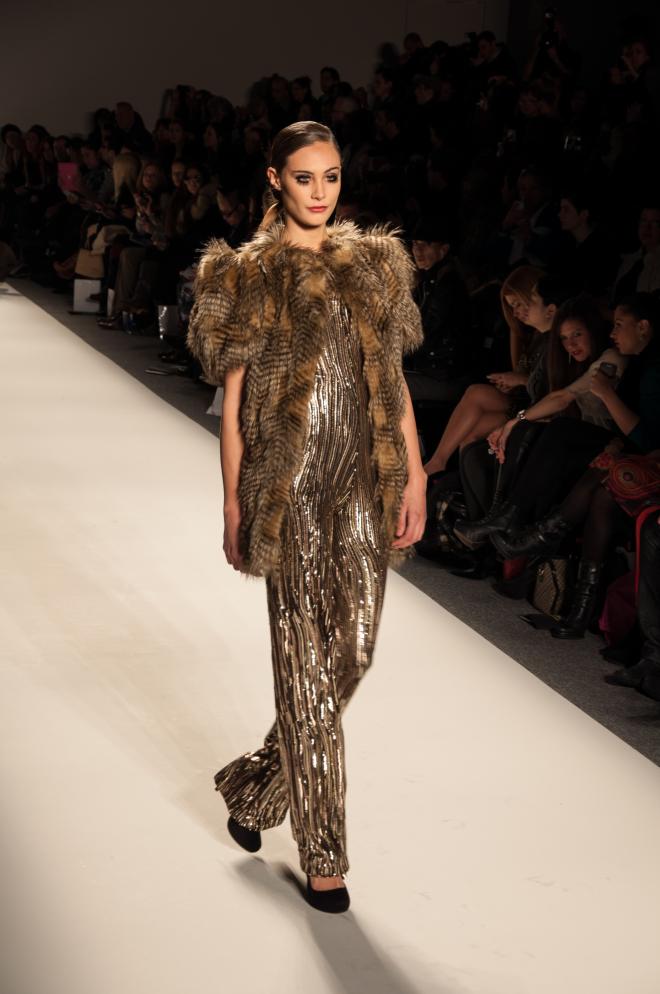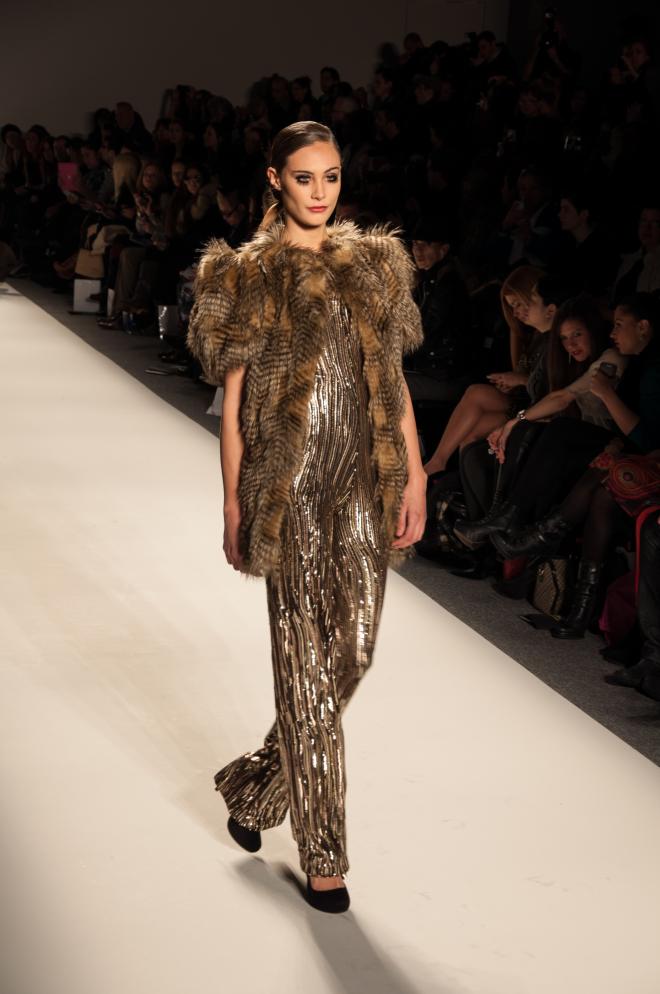 Cesar Galindo's CZAR Fall 2013 runway show was quite an event. The Studio at Lincoln Center was packed full of different people from each fashion niche. Prim and proper glamazons fell in love with the collection alongside purple-haired downtown divas. Fitting, as a common theme in Cesar's work has been providing effortless glamour to each and every woman.
This season, CZAR expanded that thought process to include not only every woman, but of every occasion as well. "A staple in my collection is convertible clothing" Cesar shared with us backstage, "These are pieces you can wear not only from work to play, but pieces that you can change based on the temperature around you. The coat I opened up with, the sleeves come out and the hood comes off. It transforms the look based on how you are feeling."
A few of the looks featured stretch leather opera-length fingerless gloves, which I thought added an extra glam factor to the overall collection. Lo and behold, they are functional as well!
"You can wear the gloves in different situations," said Cesar, "They are the perfect accessory if it's cold in the office, or if you want to go out and give a rock n' roll look. It translates to different parts of the lifestyle."
The most notable garments in the collection were the effortlessly chic long, flowing gowns. Each model looked like a heroine in a romance film, slowly wafting towards her lover. The styles were draped slightly differently, with thought to different body types. Other standouts include the intricately constructed knitwear minidresses and pieces made from a gorgeous beaded material that shimmered but wasn't outlandish.
Overall, the collection perfectly combined aesthetics with functionality that isn't often seen in today's eccentric world of gaga fashion. Not many designers have a clear focus on not only what a woman wants to wear, but more importantly, how she wants to feel. Lucky for us ladies, CZAR by Cesar Galindo is out there making sure we have something to wear that flatters us and makes us feel glamorous.