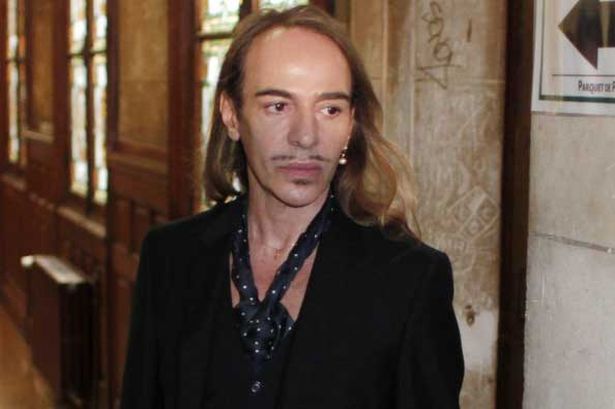 Bad boy of fashion John Galliano might be getting a second chance courtesy of the fashion world who think it might be high time the disgraced designer gets to show his wings again.
huffpo: John Galliano has been invited to return to fashion in the studio of Oscar de la Renta.
De la Renta invited Galliano to spend time in his office over the next three weeks, according to a statement released Friday by de la Renta's company.
The invite said to be coordinated behind closed doors via Vogue's Anna Wintour who it is said reached out to famed NY designer Oscar de la Renta. De la Renta for his has part has gone on to tell wwd the following:
wwd: "John and I have known each other for many years and I am a great admirer of his talent. He has worked long and hard on his recovery and I am happy to give him the opportunity to reimmerse himself in the world of fashion and reacclimate in an environment where he has been so creative. I think John is doing all the right things. Everyone in life deserves a second chance, especially someone as talented as John. I think that life is about forgiving and helping people.…I think John is doing all the right things."
The invitation may serve to act as a probation for the bad boy designer who was fired as Christian Dior's creative heads as a result of anti semitic remarks he made two years ago.He consequently also left his own label as dissent became widespread and sought rehab for his alcohol and drug abuse at the time.
Offers Galliano: "I have expressed my sorrow privately and publicly for the pain which I caused, and I continue to do so. I remain committed to making amends to those I have hurt. I am grateful to Oscar beyond words for inviting me to spend time with him in the familiar surroundings of a design studio. His support and faith in me is humbling."
And in case you're wondering who else is getting up to stand behind Galliano there's this via the nytimes:
Alexandra Shulman, the editor of British Vogue, said in a post on the magazine's Web site on Friday that she was delighted by the news.
"Oscar de la Renta is the king of uptown style and John Galliano the prince of romantic glamour, so it should be a magical match. I'm delighted John's returning to fashion."
Reflects de la Renta on concerns of potential backlash:
Mr. de la Renta told the paper that he was not concerned about potential backlash. "I think John is doing all the right things," he said. "Everyone in life deserves a second chance, especially someone as talented as John. I think life is about forgiving and helping people."
Which poses the million dollar question, will Galliano's time with the grand daddy of America fashion lead to the resurrection of a fallen hero? Who knows maybe Galliano might end up designing for the house of de la Renta? Weirder things have happened…