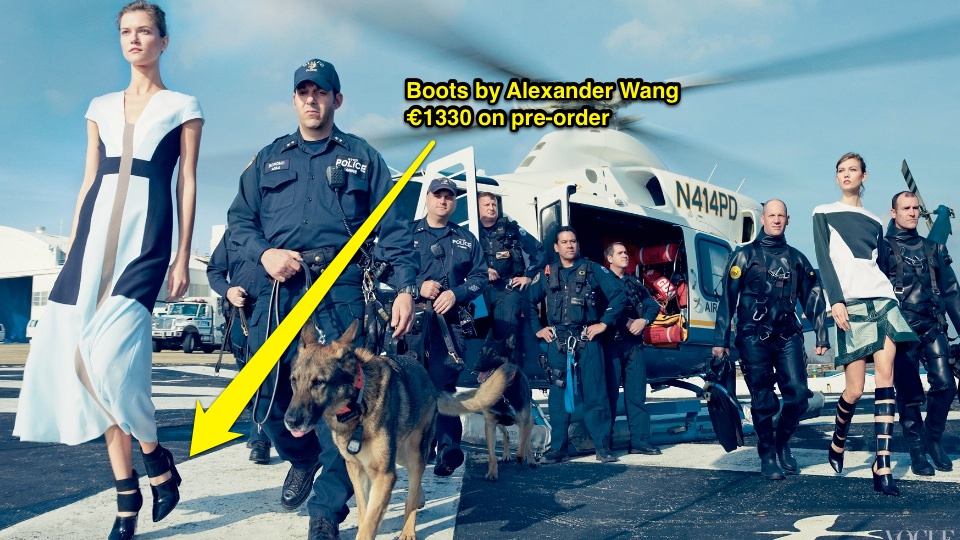 Kids remember when Brazil's Nana Gouvea opted to showcase herself in a Hurricane Sandy photo shoot? At the time it didn't go down too well and it scored the fame whore aspiring model some real flack. That said it seems Vogue magazine has also opted for the same trick except the result courtesy of Annie Lebowitz, uber photographer at large is even more beguiling. And not necessarily in a good way. Then again why should I judge whether a fashion shoot is in good taste or bad taste? But then again there is something conspicuously odd and a tad downright rude hawking boots for $1700 whilst local residents haven't been able to score a warm meal in 5 days….but then again maybe if it's a supermodel hawking the good shit I just shut up and smile and thank her for giving us the time to get out there amongst all that inconvenient gunk and missing homes?
Then there's this take via jezebel that made me wonder as well:
My objection to this spread isn't that it was made, it's how. Look at it! It's cliché and cheesy, and marred by a truly breathtaking condescension towards its subjects. These subjects don't need Leibovitz' Vaseline lens to dignify their efforts; she should have limited herself to documenting their important work. The juxtaposition of top fashion models in evening wear amidst the destruction of Sandy — the thousands whose homes were lost, the tens of thousands who required emergency meals and housing and the millions who were left without power — is tasteless and tone-deaf. This is not the right way to incorporate disaster photography into your magazine.
Reflects one of jezebel's readers:
Devil's advocate: Vogue is a fashion magazine. A magazine would use it's normal editorial direction and policy to bring attention to something they care about in a way that the readers of that magazine would find interesting. Vogue readers don't want to see a photo essay of Sandy relief workers that has no fashion aspect to it, the readers can get that kind of thing anywhere in magazines with a less specific narrow editorial bent. Fashion will always on it's face be absurd, shallow, ridiculous, and never ever live up to the very strict values of any of the writers for Jezebel. Honestly Jezebel could just have a monthly feature criticizing Vogue for something since Jezebel and Vogue exist for diametrically opposed reasons and purposes.