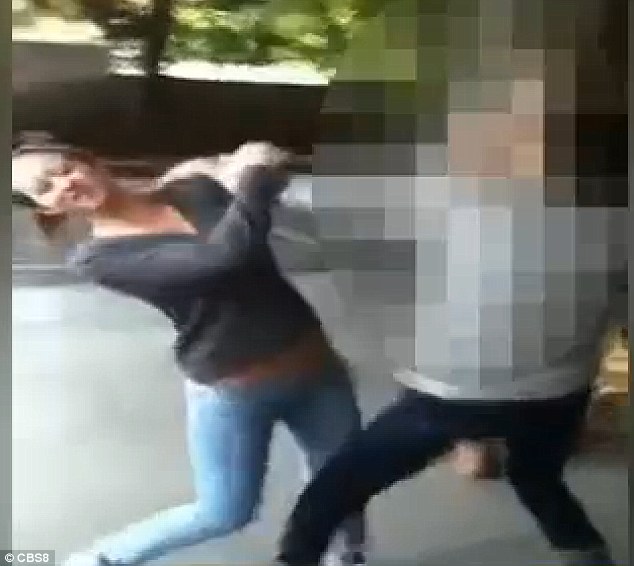 A 14 year old girl is said to have mysteriously vanished the day a video of her being repeatedly bullied by a classmate appeared online.
The girl, Baileigh Karam of Carlsbad, California whom disappeared last Friday has yet to be physically accounted for. Nevertheless it is understood she has exchanged a number of texts with her mother, Karen Karam pleading to be left alone.
In the video which was uploaded via a cellphone on to Facebook the girl is seen repeatedly struck by a fellow female student whilst students watch and cheer. At the same time the girl is heard imploring her attacker to stop. It is understood the fight was over a boy.
Tells the girl's mother Karen Karam to cbs8: 'The other girl just punched her over and over and over, while my daughter was saying "stop, stop." And the crowd was egging it on,'
Continues the girls' mother: 'I don't know where she is. I just want to get her home. We just need her here. We need to know she's healthy and safe.'
Of note is the fact that Karen Karam had warned the school that her daughter was being bullied. It's understood that each of the girl's were spoken to prior to the fight breaking out.
Karam goes on to say some of the students posted videos of the fight on Facebook, where other teenagers made comments, many of them negative.
"It's a very ugly world sometimes on Facebook. I know my daughter's out there reading all of those comments. And I know she's heartbroken. And I know she's humiliated in front of her high school."
Since the incident the girl's mother has of Wednesday night made a public plea for her daughter to return home.
"I hope my daughter knows that we just want her back home, under any circumstance, always come back home. You are so missed, so, so, so loved. We are all falling apart without her."
Interestingly comments have turned up asserting that the fight did not happen on school grounds and that the school can not be held accountable for off campus incidents. No word yet what the girl seen beating the girl has to say on the matter or why she felt so compelled to go after her ex boyfriend's new interest…?
Then there was these two comments that caught my attention too:
Their parents should be ashamed. Fighting over a boy? Where did girls learn to be so violent and aggressive? Is this how they plan on settling differences in the workplace once they become adults? Absolutely sickening.

One has to wonder who exactly here is the bully and to what degree the missing girl may be involved in the fight or may have instigated it and rather than calm her family down insists on not coming home. Hardly the behavior of someone is being bullied…?
San Diego, California News Station – KFMB Channel 8 – cbs8.com