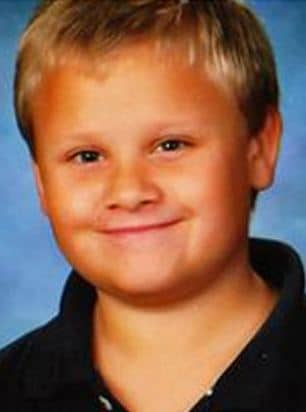 Trying to understand what one child's parents had in mind when they chose to viciously punish their son for wetting his bed…
Ten year old Jonathan James has died as a consequence of being deprived of fluids from his parents as punishment for wetting his bed.
Irate that their son continued to wet his bed, step mother Tina Marie Albertson and the child's father Michael Ray James hatched on the plan of humiliating the boy by making him stand in the Texas sun and depriving him of fluids which by the 5th day led to his fatal demise. Said to aggravate the boy's detioration was the fact that no air conditioning existed in the boy's room where he was made to stand against the sun. It is not entirely understood if that is because air conditioning was removed or turned off during the young boy's harrowing ordeal.
At present the boy's step mother is on trial whilst his father is set to go on trial next month, if convicted on charges of first degree felony murder they both stand to face life in jail.
During proceedings the court heard how the boy went into cardiac arrest had multiple organ failures, blood poisoning and muscle breakdown as a consequence of being deprived water. The court went on to hear how emergency doctors attempted for two hours to revive the boy but to no avail.
Offered Dr David Bryce from Charlton Methodist Hospital: 'He was dead when he arrived. We were able to get his heart restarted, but even in the time period that we were able to get his heart restarted it would have been considered a comatose state. 
'He was completely unresponsive and unable to communicate with us.'
Admitted Albertson that one evening she punished Jonathan by taping an "X" to the kitchen floor and instructing him to stand on it. She taped another "X" on a nearby kitchen window and told him to look at it.
Expected to testify in court is the child's twin brother Joseph who has told doctors that during the day the child died he had peanut butter stuck in the back of his throat. Something that it is believed was implored upon him via his parents.
The brother has gone on to say he wanted to help his brother but was duly concerned that he would end up in a similar fate should he speak out against the punishment.
Aggravating matters is also the assertion that the child had called his grandmother in late June 2011 complaining that he was afraid to live with his father and stepmother. It is not understood whether further actions were taken to remedy this concerns.
Reflected former Dallas police Deputy Chief Craig Miller: 'This was an intentional act of torture of a child by the people who he trusts and confides in the most, his parents.' 
At present it is not understood why the parents chose to completely violate and disregard the level of trust the boy had in his guardians which possibly suggests that on some level they in turn may have been treated similarly growing up. Or maybe not….?
Confessed Albertson "I obviously did this. I didn't mean to do it. I didn't intentionally hurt that child."