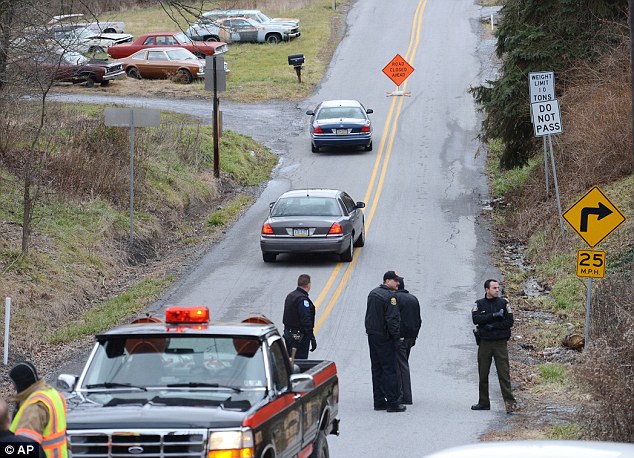 In what is becoming a weekly matter of fact of living in America local news outlets are reporting the sad news about another mass shooting which today took place today, this time in Blair County, PA, at the hands of local resident 26 year old resident Jeffrey Lee Michael.
The shootings said to have happened some time this morning before 9.00am included the death of 4 innocent persons, including one woman and three men. All shot indiscriminately at separate locations along several miles along Juniata Valley Road just outside Geeseytown in Frankstown Township, PA.
The shooting first began after Michael for reasons unknown first began shot and and killed 58-year-old Kimberly A. Scott of Duncansville while she was hanging Christmas decorations at the Juniata Valley Gospel Church.
He then left the scene and went to a nearby residence where he shot and killed another person. Michael then got in his pickup truck and drove off, eventually crashing into another vehicle. He exited his truck and shot the driver of the second car, killing him.
The gunman was eventually killed by state troopers after he began firing on other individuals as he continued his indiscriminate shooting spree. It is understood when state troopers were sent in to disarm Michael he responded by striking state trooper automobiles head on with his vehicle whilst at the same time firing a volley of shots at them.
It is known that Michael along with killing 4 persons wounded 3 state troopers. One who was shot in the chest and wrist whose life was only saved because he was wearing body armor, another who was hit by flying debris and a third who was injured in the initial car crash. All three troopers are expected to survive. It is also understood two other individuals were injured after escaping with their lives.
Local media outlet wjactv reports that during a news conference, investigators said they are looking into the relationship, if any, between Michael and his victims. They would not speculate on a motive. They said victims may have a connection, but officials would not speculate.
Interestingly today's shooting came after the NRA made its first public statement after the Sandy Hook Elementary school massacres last week in which they insist no gun control is needed and that the best way to secure the threat of violence is by supplying individuals with more guns. At the time the NRA's CEO Wayne LaPierre went on to blame the media for the escalation of violence and shootings. Something that can only be countered as pathetic an interesting and counterintuitive argument at best.