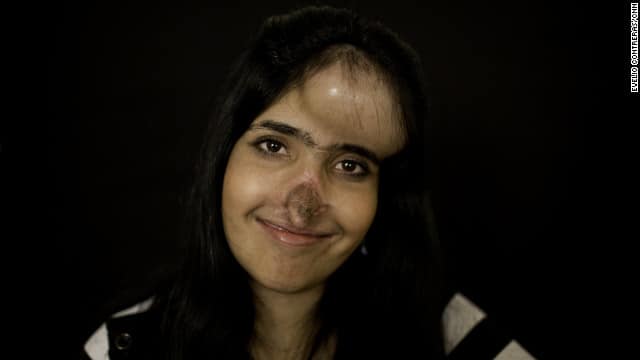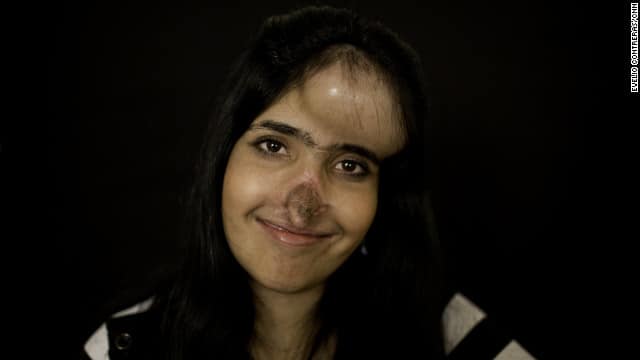 A young Afghan woman, Aesha Mohammadzai, or Bibi Aisha is said to be halfway through a painful process of rehabilitating her face after an abusive husband cut her nose and ears off back in 2010.
Having escaped her prior tumultuous existence courtesy of charity operative in Afghanistan, the young woman thought to be either 21 or 22 is currently undergoing extensive surgery and psychological rehabilitation at Walter Reed National Military Medical Centre in Bethesda, Maryland.
Her case first came to light in August 2010, when Time magazine featured her on the cover of the magazine highlighting the inhumane treatment of child brides and women in general in the region.
Her ordeal first began when she was 16 when her father promised to marry her off to a local Taliban fighter in lieu of debts. From there she went on to be abused and forced to sleep with animals in a stable.
Then one day in a desperate bid to leave her treacherous existence she attempted to flee and return to her family only to be caught by her husband who then hacked her ears and nose off as punishment, leaving her for dead in unforgiving mountain ranges. Miraculously she was able to crawl to her grandfather's house where she was taken to an American base and eventually through a charity outlet brought to the United States with the view to perform corrective surgery.
Nevertheless the young woman's road to recovery has been met with wild bouts of psychological terror and violent outbursts forcing surgeons to not only tend to her physical needs but also more importantly her psychological ones as well.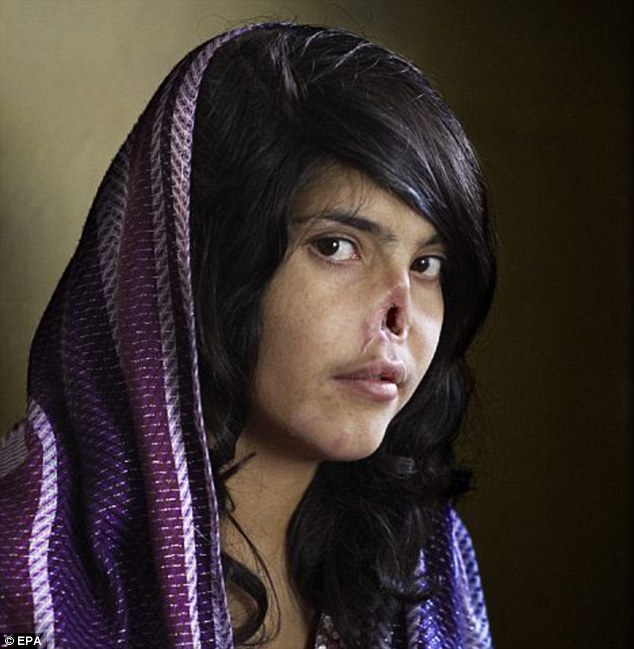 According to CNN she was initially given a prosthetic nose but full plastic surgery had to be delayed because it was deemed that the young woman was thought emotionally stable to cope with the painful and lengthy surgery required.
Doctors have gone on to say that in the months ahead after the 6 month halfway mark that Aesha stands to look far worse before she looks better and to date her forehead has been purposefully expanded to provide surgeons the extra necessary tissues doctors will need to undertake the restoration of her nose as well as the the temporary appearance of dark and drooping flesh where her nose once used to be.
On Monday, doctors will take cartilage from Aesha's rib beneath her breast. Dr. Bauback Safa (a plastic surgeon well-versed in nasal reconstruction) concludes that they will perform a procedure called a "forehead flap."
The rib cartilage, says Safa, will be used to build the structural support of her nose. One piece will run along the bridge, and others will be used to help shape her nostrils. Then, he says, skin from her forehead will be flipped down — keeping the blood vessels intact — and sewn atop the structure. The result will be trimmed, shaped and tweaked in the coming weeks and months.
Despite the trauma of what lies ahead of her the young woman remains adamant and defiant that she is now willing to redeem herself and achieve what ever her hear demands.
Telling an interviewer: 'I don't care. 'Everybody has some kind of problem. At the beginning, I was very scared. I was scared to look at my face in the mirror.
'I was scared to think what will happen in the future to me. But now I'm not scared anymore. Now I know the meaning of life, how to live. There, I couldn't understand how to live.'
She now lives with her new adoptive family in Maryland, Mati Arsala and his wife Jamila Rasouli-Arsala, as well as Jamila's 15-year-old daughter Miena Ahmadzai from a previous marriage.