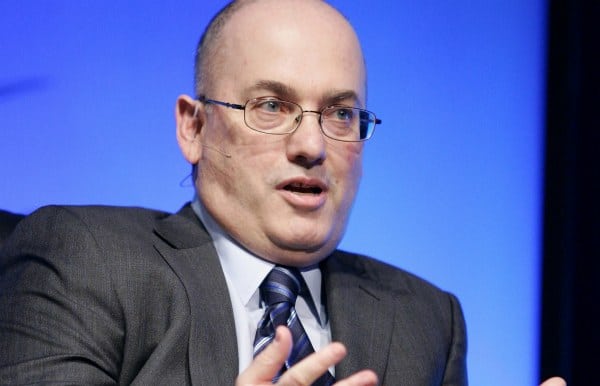 SAC Capital wins again as trader is exposed in $276 million insider trading scheme.
Questions are beginning to be asked whether SAC Capital's head Steven Cohen was complicit in the latest insider trading scheme which saw subsidiary CR Instrinic walk away with $276 million illicit profits at the hands of its fund manager and trader Matthew Martoma in the year 2008.
The swindle comes off the back of other instances where SAC Capital has been linked to six other insider trading scandals over recent years, which has some once again asking whether the hedge fund is a 'festering morass of illegal insider trading.'
Bringing Cohen's complicity closer to the table is the assertion that he is thought to have been identified in the criminal case against CR Instrinic as the mystery 'Portfolio Manager A.'
Although not formally indicted, or necessarily even aware of the illicit behavior at the hands of Martoma, evidence is coming to light that is hardly complimentary.
Points out time: Cohen has been investigated by law enforcement officials probing Wall Street insider trading for years, according to the Journal, but Tuesday's unsealed complaints mark the closest they have gotten to associating Cohen with alleged wrongdoing.
Points out dailyintel referencing unsealed federal documents:
On the morning of Sunday, July 20, 2008, following his July 17 and 18 calls with Gilman, Martoma sought to speak with Portfolio Manager A about the Elan positions that the CR Intrinsic and Investment Adviser A portfolios had amassed to that point, telling Portfolio Manager A by email that "[i]t's important" that they speak. Martoma and Portfolio Manager A thereafter spoke for nearly 20 minutes. Martoma indicated to Portfolio Manager A that Martoma was no longer "comfortable with the Elan investments held by the CR Intrinsic and Investment Adviser A portfolios …
[A bunch of trading, and then …]
At Portfolio Manager A's discretion, the trades that the Head Trader executed in Elan and Wyeth … were kept confidential even within CR Intrinsic and Investment Adviser A. For example, on July 21, 2008, the Head Trader emailed Martoma concerning the sales: "obviously no one knows except me, you and [Portfolio Manager A]."
Which leads to daily intel's author wondering out aloud: Why would you take pains to keep a massive change in trading strategy surrounding a single stock confidential within your own firm? I have no idea.
Martoma, for his part has been charged with one count of conspiracy to commit securities fraud and two counts of securities fraud; each fraud count carries up to 20 years in prison.
Upon Martoma's arrest this morning at his Florida home, his lawyer, Charles Stillman issued the following statement:
"Mathew Martoma was an exceptional portfolio manager who succeeded through hard work and the dogged pursuit of information in the public domain. What happened today is only the beginning of a process that we are confident will lead to Mr. Martoma's full exoneration."
Whether Cohen himself has the noose put over his neck remains to be seen yet and is conditional on a variety of factors as noted by reuters:
For now, though, it seems they don't have enough. The documents say Martoma met with "Hedge Fund Owner" to arrange trades, but don't mention any evidence that he disclosed the source of his information or indicated it was confidential – essential elements for an insider trading charge. Without secret recordings or damning emails, evidence would have to come from Martoma or other cooperative witnesses.
At last count a SAC Capital spokesman has offered: "Mr. Cohen and SAC are confident that they have acted appropriately and will continue to cooperate with the government's inquiry."
Who though is not confident is the general investing public who is beginning to smell a rotten egg in the kingdom of golden eggs….