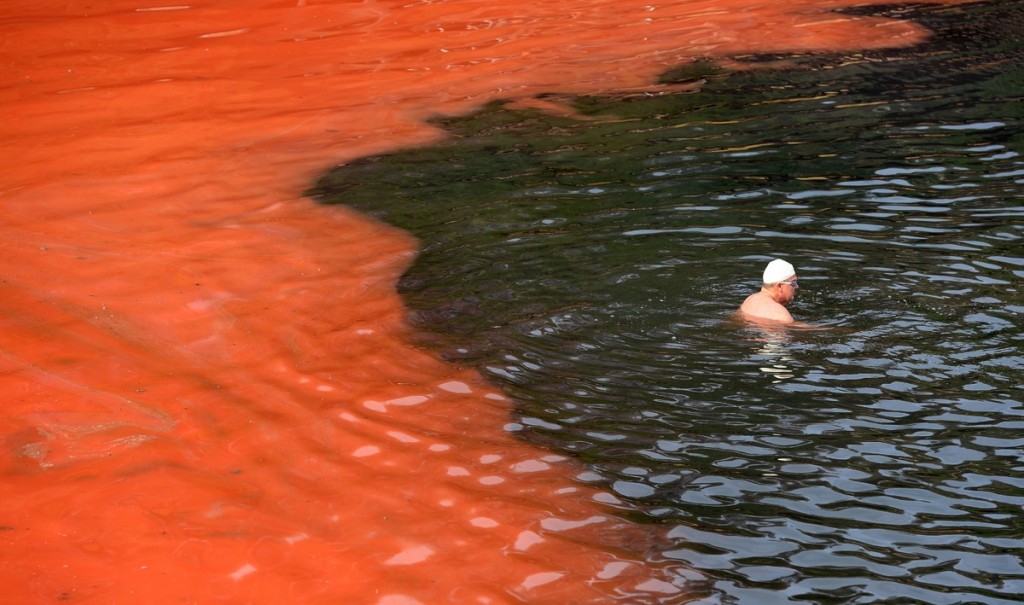 Australian beaches along Sydney's eastern suburbs have locals flummoxed after their world famous beaches turned the color of blood.
Said to be the result of of a rare red algae bloom, the natural forming marine algae has led to the rare closure of some of Australia's beaches, including that of Bondi Beach which bore the brunt of the thick bloom.
According to news.com.au, surfers at Bondi beach first discovered the red bloom early Tuesday Australian time, with the bloom eventually breaking by evening and the beach reopening Wednesday, whilst some have remained close.
Said to irritate skin given the high incidence of ammonia that the bloom gives off, swimmers were asked not to enter the waters, although some nevertheless dared the waters anyway. A lifeguard at Bondi beach told the Australian Associated Press that the algae had a fishy smell.
Notes huffpo: One theory is that an influx of colder, nutrient-rich water sparked the red tide, The Daily Mail notes.
Marine biologist Fred Gurgel told News.com.au that most algal blooms last about a week.
In August, a lake in southern France turned red due to saline algae. A similar phenomenon affected Lake Retba in Senegal, turning it the color of a strawberry milkshake.
Offered one British tourist Ken Roberts: 'Perhaps I'm just in the wrong country – I thought the Red Sea was somewhere in Asia.'