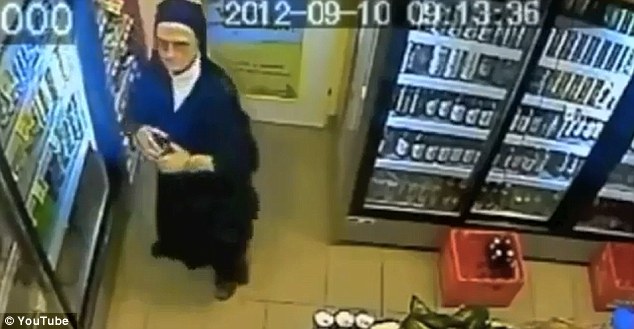 They are suppose to be forever devoted to the principles of the church which is perhaps why one story currently making the rounds has caught media pundit off balance, that of a nun caught on camera stealing a can of beer.
What of course makes the incident (there's now debate whether it is actually authentic or just a staged event) is the double whammy of a nun stealing and that of her drinking as well, something that no faith abiding servant of God ought to be caught doing except that is the Vatican and other behind the scenes faux pas that you're not supposed to ever read about. Yes image is everything.
The video starts off with the nun walking up to the fridge where the beer is stored, her checking around to see if anyone is watching her before nimbly placing a can of beer in her habit. She then proceeds to walk down the aisle, pick out some water (which she of course steals as well) before returning to steal another can of beer.
At present no word on the identity of the nun and whether she actually ended up enjoying her drink on the sly….
The video clip was posted to YouTube channel TheToshPoint on October 6 and has so far been viewed 8,000 times. It also featured on various news outlets, including News Channel 3 in Oklahoma.