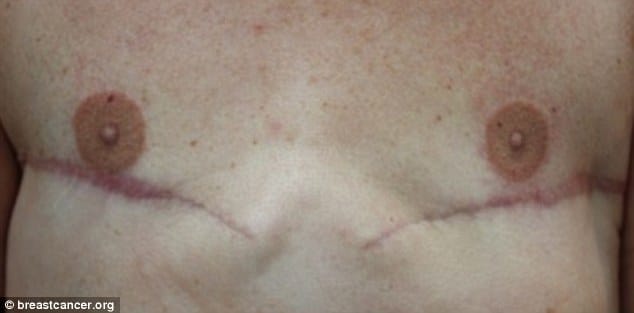 For many mastectomy patients, 50 year old tattoo artist Vinnie Myers from Baltimore, Maryland is a godsend, for him though it's just his way of being creative and his small way of helping those who have unfortunately afflicted with breast cancer.
Over the course of ten years, Myers who has helped up to 2 -3000 mastectomy patients, some as far as Saudi Arabia and Brazil deal with the loss of their breasts, the hallmark of how so often many women identify with their femininity.
Myers who has adroitly recreated the illusion of nipples and the aureola, something that is nearly always gone for those who have endured breast cancer surgery recently had this to say on breastcancer.org: 'I feel like I have the best possible job as a service provider for breast cancer warriors. I'm on the back side of the battle. The finishing touch. The last step. I truly get to put the cherries on the cupcakes!'
With many women wishing to feel like a woman again, many of Mr Myers' clients see his nipple tattoo treatment, which costs $400, and takes around two hours to complete, as an alternative to reconstructive surgery.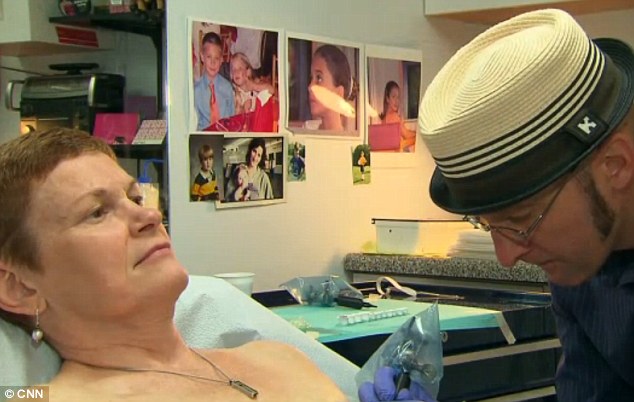 Reiterated one woman, Penny Kurek after having new nipples tattooed on her chest:
'It's been almost two years since I had a nipple. It's really incredible. It really makes the scar look less there… I'm going to go to Victoria's Secret and get a pretty bra.
'My husband encouraged me to come/  He is the only one who will see me. He wanted me to feel more like myself.'
Describing his technique, the UK's dailymailoffered the following:
He uses a flesh-coloured Sharpie pen to outline the nipple and areola, before preparing the tattoo ink, which is mixed to match the skin tone of the client.
To create the the illusion of a raised nipple Mr Myers uses two tattoo guns, using one to draw the circular lines, and the other to shade.
He also takes special care to do what are called Montgomery Glands, the small raised bumps in the areola. Because of nerve damage during a mastectomy, many women don't feel significant pain.
Reflects VinnieMyers: 'Using the foundational skills of tattooing coupled with precisely mixed pigments, shadows, and highlights, a very realistic result can be achieved.
'This 3D approach to the procedure offers each client numerous possibilities in obtaining the best end result and appearance, even for those who've already had nipple tattooing done.'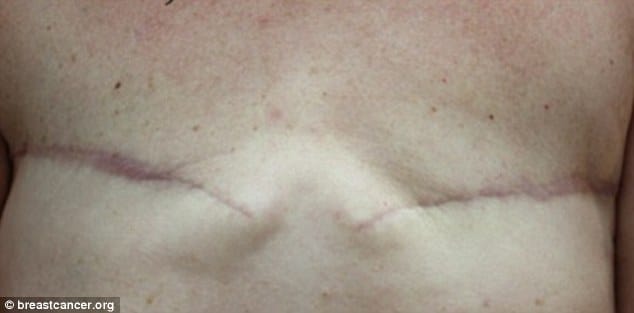 Vinnie Myers first started dealing in breast/nipple tattoos in 2001 after a plastic surgeon reached out to him and asked him if he would be interested in helping women who had undergone reconstructive breast surgery. By this point he had already been doing tattoos since 1984 and had by 1991 opened up his own parlor.
After accepting the offer he quickly found that the techniques used by mainstream medicine were outdated. For instance many surgeons were using vegetable-based dyes that faded quickly and failed to give a realistic impression.
He has since dedicated his career to the art of 3D nipple tattooing and over the past decade he has worked at improving the process.
So passionate has Vinnie Myers become with the process and helping afflicted women he has now teaches other tattoo artists about his nipple coloring technique.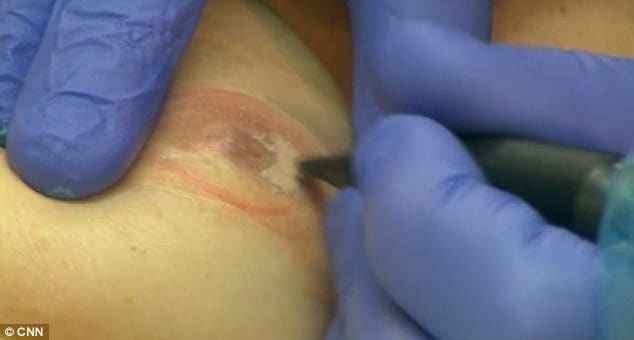 Says Marisa Weiss, founder of Breastcancer.org and a radiation oncologist at Lankenau Hospital of Vinnie Myers: 'His results are just so superior to what else we've seen, and I've seen nipples from all over the world.
'Women have been through so much and then they make a big commitment to reconstruction, and if the nipple doesn't look good, it screws up the whole thing. 
'It's hard to get a perfect result from reconstruction. But if you get a great nipple in the middle, it distracts the eye, which is very forgiving.'
And just in case you think this is just one man being creative in a small arena, think again, this year alone 290 000 women in the US are expected to be diagnosed with breast cancer, many of whom will be turning to Vinnie Myers to help them with restoring their sense of femininity once the inevitable realization that they be soon relinquishing what nature gave them and what until then helped define them as women.
You can go to Vinny Myer's website here; vinnymyers.com