Oh to be such a hawt catch like Russell Simmons…
Since Russell Simmons split from wife Kimmora Lee Simmons, the rap mogul has seen his fair share of beauties come and go, but this time it seems this one could be for keepers, until that is she goes as well…
dailymail.co.uk: He has dated a string of glamorous, and much younger women over the past few years. 
And Russell Simmons, 55, was clearly enjoying spending some quality beach time with his latest young beau – 26-year-old Miss Universe 2011 Leila Lopes.
The music mogul millionaire took to Miami beach on Friday with Leila, who looked dazzling in a simple white strapless bikini.
Dazzling indeed but one can't help but wonder as the couple enjoy themselves in the surf where this will all end up. Perhaps one can excuse the 29 year age gap, the fact that Mr Simmon's latest conquest is once again another sugar puff looking for her moment in the diamond patch and the odd feeling that something just doesn't quite add up with these two…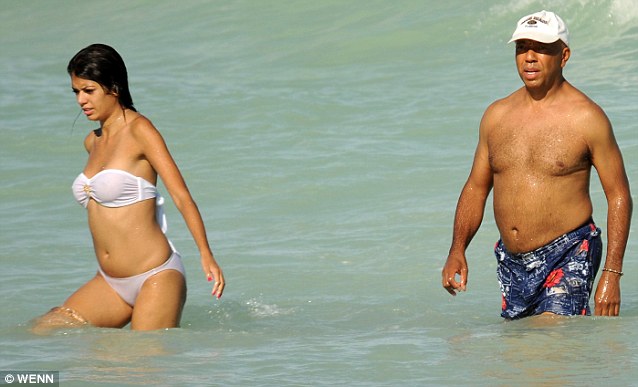 The pair held hands, splashed around and shared a laugh together while taking to the cooling ocean.
Russell, meanwhile, was not in such good shape as his girlfriend, who he is said to have been seeing since July.
Looking a little portly around the middle, he strolled through the waves in a patterned pair of swimming shorts and a white baseball cap.
Portly around the middle? Is that the DM's desperate attempt to address an awkward reality but their reluctant admiration of the social scenester nevertheless?
Later he was spotted sensibly cleaning his shorts of sand in the salt water before changing into a white T-shirt and shorts. 
However, perhaps the businessman was feeling a little conscious of his age – at one point he performed some stretching exercises before hitting the sea.
Well at least Mr Simmons acknowledged something was a little amiss as the camera boy clicked away, but then who am I to judge what a 26 year old former Ms Universe (something that I am having a hard time believing looking at the above pictures) finds attractive? It could be after all diamonds and cash aside Mr Simmons has a stellar personality and a heart of gold. The word gold being the operative adjective of course….