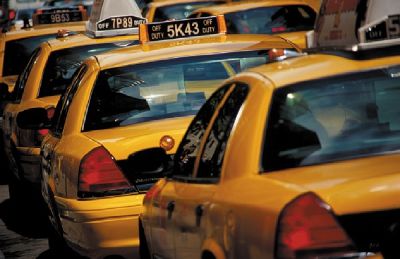 NYC taxi fares set to rise 17%: Will it lead to more people using public transport? Cab drivers and public commuters reflect on what will happen. 
If you ever wanted a more convincing reason to start walking or taking public transport in  NYC today's 17 % fare hike in taxi rides might be the impetus some of you might be looking for.
reports the nypost: passengers will be charged 50 cents for each fifth of a mile and every minute cabs are stuck in traffic — up from the current 40 cents for each.
The average fare will rise from nearly $10 to almost $12. Rides from Kennedy Airport also will increase, from $45 to $52.
The new fare schedule, approved by the Taxi and Limousine Commission in July, will begin to be implemented today — but cabbies could take until the end of September to adjust their meters.
Although the cab hike might be unpleasant for many New Yorkers accustomed to paying fairly low rates to get around, it might be welcome news for the many cabbies who get to slog 12 hour shifts with the average cabbie hauling $130 for his efforts, which works out at a scant $10.83 per hour. Now cabbies can be expected to make $160 for a 12 hour shift which still puts them at only making $13.33 hourly rate. The raise is the first raise since 2006.
Yet not all cabbies are excited by the cab fare rise with some now suspecting that cost of leasing cabs from taxi companies will also go up.
But driver Frank Okoli, 44, is concerned that the cost of leasing cabs will go up as a result of the new fares — and that his supposed pay raise will "not amount to anything."
"As soon as the rates goes up…the companies increase their rates," said Okoli, who has driven a cab for the past 11 years. "It's a game that you can never win. You get a raise and the [parking] tickets get higher.
"For most of the cab drivers, it doesn't make no difference," he added. "Let's see how it works."
The below is a guideline as to what to expect. Which raises the question will New Yorkers just glumly accept the cab ride (well the well to do ones wont probably even notice) or can you now expect to see more New Yorkers power walking to their destination…?
New yellow-taxi fares go into effect today:
Fortrips in the city
* Average farerising from $9.91 to $11.97
* Price for each fifth of a mile going from 40 to 50 cents
* Surcharge for every minute in stopped or slow traffic increases from 40 to 50 cents
Trips between Kennedy Airport and Manhattan
* Flat rate increasesfrom $45 to $52, plus tolls and tip
Trips to Newark Airport
* Automaticfee rising from $15 to $17.50 on top of regular charges from Manhattan, plus tolls and tip