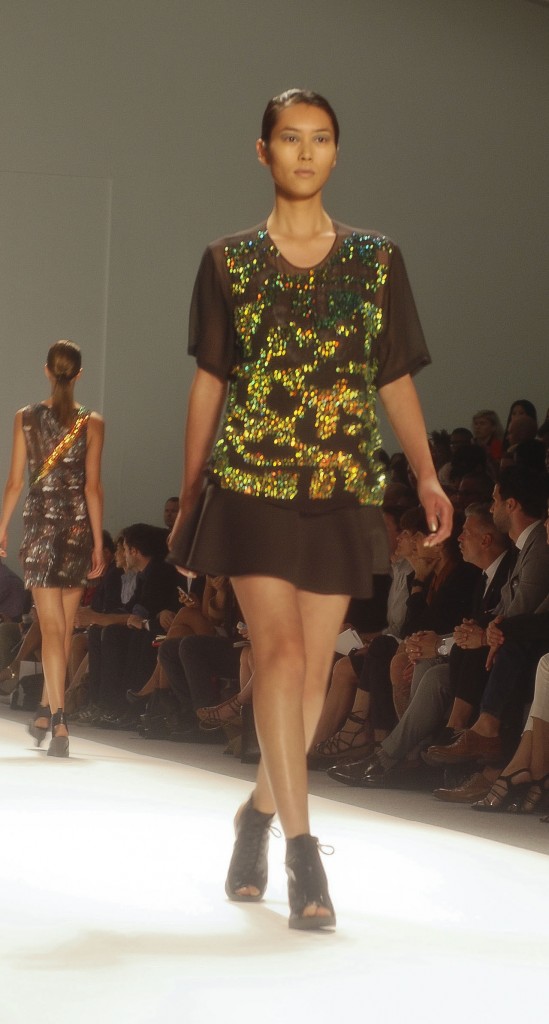 Like most shows here during NY Fashion week the action began before the boys and girls began pouncing down the runway with a phalanx of paparazzi swarming notable guests in the front row (a phenomenon that is unlikely to go away even if some designers have stated in the past the clothes are not about celebrities). Who was being swarmed though I couldn't really tell, a misnomer I assume for a seasoned tabloid writer.
Just a few seats past me photographers were getting busy snapping away, at who I couldn't tell, until someone whispered, it's Mariah Carey's husband (as opposed to Mariah herself), Nick Cannon who I was told is someone famous. If you say so.
Finally the lights went down and the real treat began with Richard Chai's models thumping down the plank to a mixed rendition of the Rolling Stones 'Sympathy for the Devil' (indeed). What followed was a consortium of sleek minimalist designs, light breezy fabrics, a few hit and misses and a few gems to boot as well.
One of my favorites was a sleek loose fitting sky blue crepe linen/rayon suit, perfect for afternoon strolls in your favorite capital city. Other interesting morsels sauntering down the plank included nylon zip jackets, mod pants for the boys, minimalist prints and simple but chic dresses for the girls where a heavy use of high tech fabrics took hold.
Some gem pieces included a denim overcoat (well conceived), sequined colored knickerbockers (start getting used to these kids) and a sleek sequined cocktail dress that was simple and minimalist in design but did a good job of forcing me to do a double take at its simple beauty and aesthetics. I also liked the boxy billowy shorts that Mr Chai had some of his male models wear against fitted tailored maroon jackets.
Another overriding theme of Mr Richard Chai's love collection included his reference to 1960's inspired futuristic shapes and designs as one were looking at adroit moon girls with a modern day after thought. A sleek and thoughtful collection over all and probably one you should consider investing in the near future.