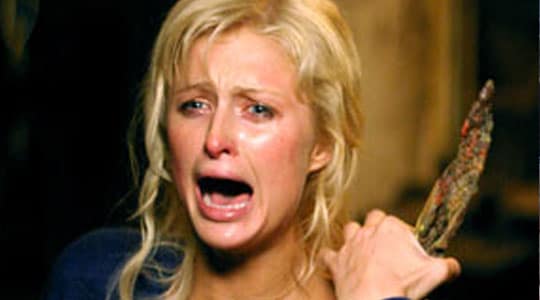 Oh my! Paris Hilton reckons 'gays are disgusting and most of you faggots have AIDS.'
Paris Hilton found herself getting in all sorts of terrible shit yesterday which saw her pr profile head closer to zero, in fact me thinks it's way in minus territory but who's really paying attention anymore now that Parisite has effectively become a meaningless has been whose time has come and gone. Sad I know. Well not really.
Anyway the bimbette came out with a revealing comment about how she feels about them 'fags' and boy did she put her foot in it by reckoning that their sexual appetite has left her disgusted and of the opinion that they are all on the way of dying courtesy of AIDS cause as we all know only gay men are capable of irresponsible shocking behavior. Not that Parasite has ever put a random dick in her mouth…
Anyway here's her apology which hopefully will make everyone feeling better about Parasite and of course quickly once again forgetting about her until she next puts her foot in it.
via GLAAD: As anyone close to me knows, I always have been and always will be a huge supporter of the gay community. I am so sorry and so upset that I caused pain to my gay friends, fans and their families with the comments heard this morning. I was having this private conversation with a friend of mine who is gay and our conversation was in no way towards the entire gay community. It is the last thing that I would ever want to do and I cannot put into words how much I wish I could take back every word.
HIV/AIDS can hurt anyone, gay and straight, men and women. It's something I take very seriously and should not have been thrown around in conversation.
Gay people are the strongest and most inspiring people I know. It is so wrong when people bully or put down others for being gay. No one should have to go through that. Again, I am so sorry from the bottom of my heart and I feel absolutely horrible. I hope that everyone can accept my apology and know that it is not who I am or how I feel in any way.
Thank you for taking a minute to read this, I love you.
above image found here.