All Christina Aguilera wants to do is have a good time. A very messy lousy good time that is…
It seems staff tending to Christina Aguilera at Beverly Hills hotspot Spago restaurant had their work cut out for them last night when the pop star turned up with her boyfriend Matthew Rutler in lieu of celebrations for her newest video.
dlisted: Dishwashers at Spago in Beverly Hills had to stay 2 hours past their shift last night, scrubbing red oil stains off the edges of wine glasses, which could only mean one thing: Drunktina was there!
Looking like she just hung her head over a toilet right after Jem! took a pink and purple-colored piss in it, Drunktina stumbled out of Spago last night with the help of two human crunches.
Really what's a couple of live human crutches escorting you back to consciousness when you're knocking back the good shit? If I could get the chipmunks that scurry up and down the foyer to prop me up here and there I'd also be open to the idea of shoving a tube from a refined vat of the good shit all the way to my nostrils and back. That way I'd never miss a beat. But then again I'm not a consummate rock star, yet.
Rounding out the live crutches, her hawt piece Matty and the spilled good shit was of course Christina's eye popping outfit which must have had fellow diners and the local kitchen dishwash boy wiggling their eyeballs as Christina showed them why she's got curves.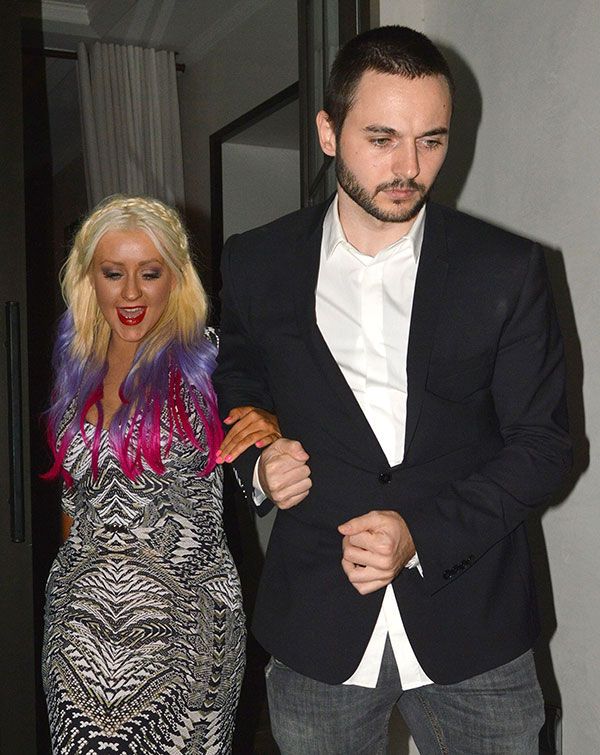 The video itself that Christina had come to celebrate is according to her publicists quite the racy one (I would have preferred more tequila drinking int the video) with Christina even going so far as to self flagellate poke fun at herself.
Said our collective heroine:
'I'm so excited to release it… It's very tongue-in-cheek, very playful, it's very fun. It's kind of comedic in a way…
'I'm kind of playing this character it's very much like a character outside of myself. It's just fun, it's like a little mini movie.'
Of course being Christina must be like living a mini movie every day with your own reserve of extras (that includes you too Matty) there to pick up after you when you finally slump in the back of the limo smug in the knowledge that the world constantly looks towards you for its daily dose of healthy amusement….