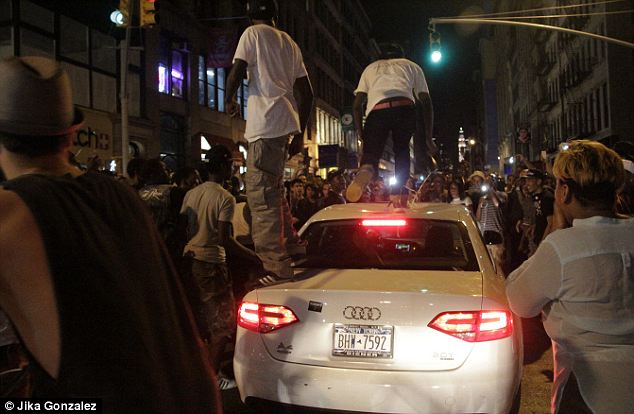 Mitchell Levine last night became a fashion victim but not because he was dressed particularly wrong but rather because he had the misfortune of being singled out by a NY Fashion night out mob.
The distressing scene captured by freelance photographer Jika Gonzalez show revelers egging each other on whilst a hapless Levine looks on as they jump on the bonnet and trunk of his white Audi (let's hope insurance will cover this mess).
Apparently the scene got out of hand when an altercation between Levine and a cyclist got out of hand which led to revelers then taking sides against Mr Levine.
Offered Jika Gonzalez:
At approximately 11:15 p.m. I saw a crowd around a white AUDI. A bunch of guys started jumping and running over the car. They ended up smashing the windshield while the driver, Mitchell Levine, was still in the vehicle. Levine called the police in fear for his life but the police took over 20 minutes to arrive.
20 minutes to arrive. Hmm, now that's what I call service.
And then there's this update via gothamist:
Update 6:01 p.m.: In response to our inquiry about the incident, an NYPD spokesperson tells us one person was arrested for Obstruction of Governmental Administration, and a second arrested for Disorderly Conduct. In addition, the NYPD appears to contradict assertions that it took officers 20 minutes to respond. The spokesperson tells us, "The first 911 call came in at 2259 hrs, the motorist called himself at 2303 and by 2306 hrs the police were calling for additional assistance at the scene."
Then there was this comment below which brought a rueful smile to my lips, oh dear, 'fucking' fashion night out indeed….
fucking hipsters!
go back to ohio.
tight jeans.
why didn't the guy just drive off with these idiots on top of his car?