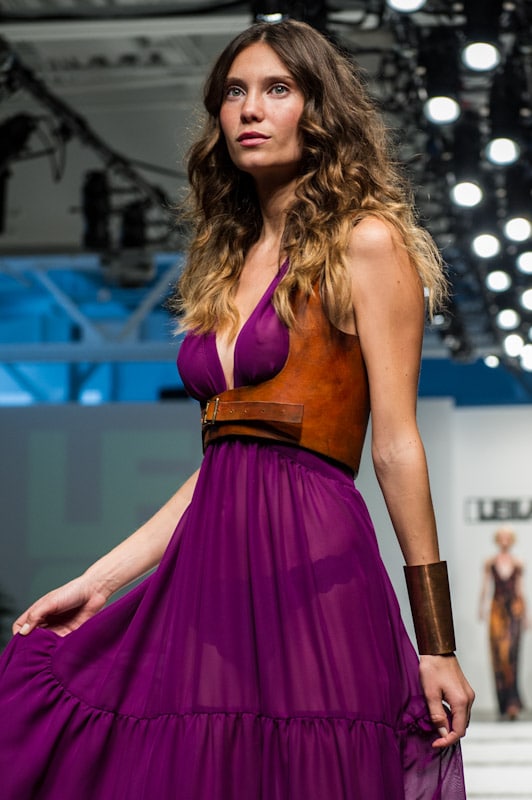 Each show during fashion week has its own distinct energy. Usually there's quite a bit of nervousness in the air, veiled by pretense, but Leila Shams' Spring/Summer 2013 collection was completely different. As soon as I entered Pier 59 studios, I felt a surge of warmth and whimsy, with a rock n' roll edge- a breath of fresh air! Show goers enjoyed each other's company while admiring the uniquely excitable garments presented around the perimeter of the room. I really got into it.
Bright pastels next to sheer lace in fitted silhouettes above thigh-high socks glittered the room. I felt a strong Victorian influence in the structure of the shoulders and lace detailing. The pieces were absolutely unconventional, yet extremely wearable (I want them all). Inspiration taken from 70's porn and needlepoint made for a girly collection with a badass edge, down to the flowing long center-parted hair and the raunchy quotes stitched into some garments. They read "GOD BLESS THIS HO AND ALL WHO ENTER," which Leila was so excited about when she shared the quote's origin with us, "I was looking at all these needle points, there was a lot of "God bless this house and all who enter", and I thought, "God bless this HO and all who enter! I found that so funny."
Singer/Dancer/Humanitarian Sarah Atereth was in attendance in head to toe Leila Shams. She couldn't help but share her love for Leila's work (and she looked fabulous in it) "I find her designs very inspirational because they're so rock n' roll," she said, "I can move in her clothing, which is important as I'm also a dancer and I need that on stage. That's actually really hard to find!"
Leila shared her inspiration with us in greater detail, "I started looking at all these old 70's porn photos, it's raunchy but it was this beautiful lighting and a lot of sea-foam, sepia, taupy kind of colors. The print on the parka is a pixellated image of a naked woman bending over, and the long maxi-dress is actually Jane Birkin naked. There's a lot of sheer over granny panties, stuff like that. I wanted it to be hard and soft, and that's what I liked about the porn. It was raunchy and sexy but it was also very feminine whereas you look at porn now, and it's so uckk, you know? I wanted to play with the harnesses and the leather, mixing that with the sexier, softer elements."
Such tongue-in-cheek design that doesn't take itself too seriously, yet IS serious in its own way, is so rare nowadays. It's hard to find many designers who are so endearingly open about their work- Leila Shams is definitely one of my favorites thus far!
Pictures continue next page.