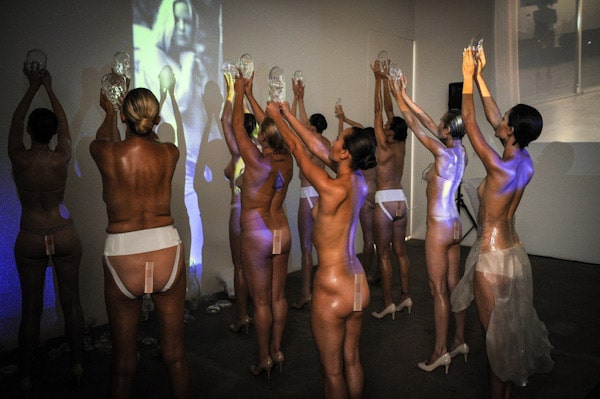 The Imitation Spring 2013 presentation was an awkward madhouse, at least I thought so, but I think this was the goal. Those who came to gallery Bortomali filed in to be met by a squads of fashion week workers signing people in, as well as a group of about ten women – all young adult/teenagers – singing a Christmas song in only nude colored leotards. Their body's were far from the todays designated "model" look as the leotards clung to their skin. They held the music lyrics as they sang.
As you entered the gallery the walls were lined with more models ranging from what looked like 8 year old girls to 90 year old women. These models each had gaudy mirrors that they stared into as they hung in front of them on the wall. The models wore nude leotards and took clothes on and off, always gazing at their reflections, and forming piles of clothing on the floor as they discarded pieces or shuffled through to find what they wanted. For some reason they all reminded me of ballerinas. Whether it was because of their  leotards or just the looks they gave in the mirror, depicting struggles with self image or body size, I was transported to somewhere reminding me of the dressing room of the nutcracker or a ballet recital.
The models were lined up in age progressions, starting with the youngest and ending with the eldest. Towards the middle, or where 30-40 year old women would range, was a separate part of the gallery where these women stood practically  naked – some exposing breasts, while others offering full frontal nudity. For this portion only the models held plastic clear masks in front of their faces, to distort them as well as depict the issue of self consciousness among this group of women. On the wall were shots of a womans face being photoshopped, as well as a video of a naked pregnant woman speaking.
Throughout of this, viewers were piled on top of each other, meshed between the models and one another. Originally, before I caught onto where this was going exactly, or realized the continuity of the nude leotards and nude pumps that the models wore, I could not tell the difference between who was part of the show and who was not, and this was quite possibly the designers intention.
As for the clothing itself there was a lot of tight little skirts for the young ones, flowy hippie frocks dresses and shirts for the young adults and shawls and suits for the golden years. The middle aged women were of course naked. All models, despite size or age, used the mirrors to tell a story about a society drench in vanity, body obsession and the battle to cling on to youth.
Images continue next page.