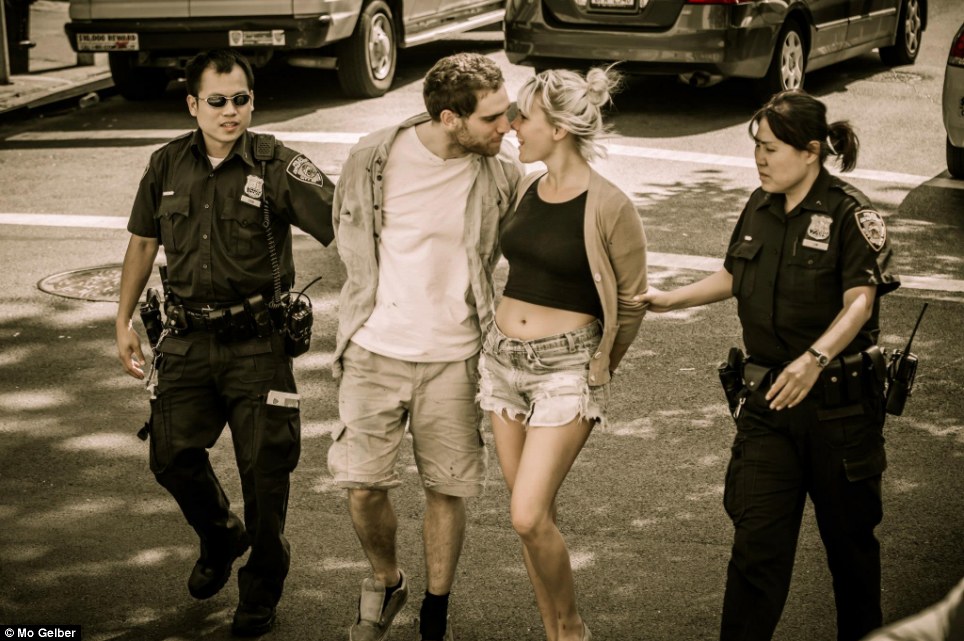 The couple in the above photo at the center of a massive search for their identity have finally been identified after one of the lovebirds snapped by photographer Mo Gelber came forward to assert her identity in the photo.
Specializing in street photography, Mo Gelber was able to capture an image of the modern day lovebirds  (he titled the photo 'Last Kiss,') but when it came time to using the actual image of the couple in a competition (he had been selected as a finalist) he was told he could only do so if he got the expressed permission of the couple. That's when of course Mr Gelber began his campaign to locate the unidentified modern day Bonnie and Clyde who are seen kissing even though they are both being brought into custody by authorities.
Launching a campaign via Facebook (which was later then picked up by the nydailynews) the photographer was fortunate to have one of the couple's whose image appeared in the photo, 28 year old Alexis Creque step forward and reach out to Mr Gelber. Her partner in the photo was also identified as 26 year old Russell Murphy with whom she admitted having a 5 month whirlwind romance with at the time of their arrest on August 15th.
Offered Alexis Creque:
'We had a crazy romance all summer. It is like a movie.'
The couple not only had a romance akin to those seen in the movies but also it seems a kind of diabolical lifestyle that one often sees in movies which including defacing various outlets with graffiti (yes what better way to declare your independence and resistance to the status quo). It was at one the Milk and Honey lounge during a graffiti tagging that authorities arrested Russell Murphy and his girlfriend.
But there's one complication in Mo Gelber's efforts to get the express signature of both Ms Creque and her boyfriend who it seems is still incarcerated whilst she is free. She refuses to sign until her boyfriend is also released.
Not dissuaded Mr Gelber has countered: 'I will bring the release form to Rikers if I have to. I just really want to win this contest.'
Never mind the quest for validating and romanticizing youth, rebellion and good looks goes on unabated and perhaps Mr Gelber should win cause he was there at the right time unlike Mr Murray who wasn't who refuses to sign the waiver required for Mr Gelber to win, which would really make the picture that more romantic and of course that more construed….