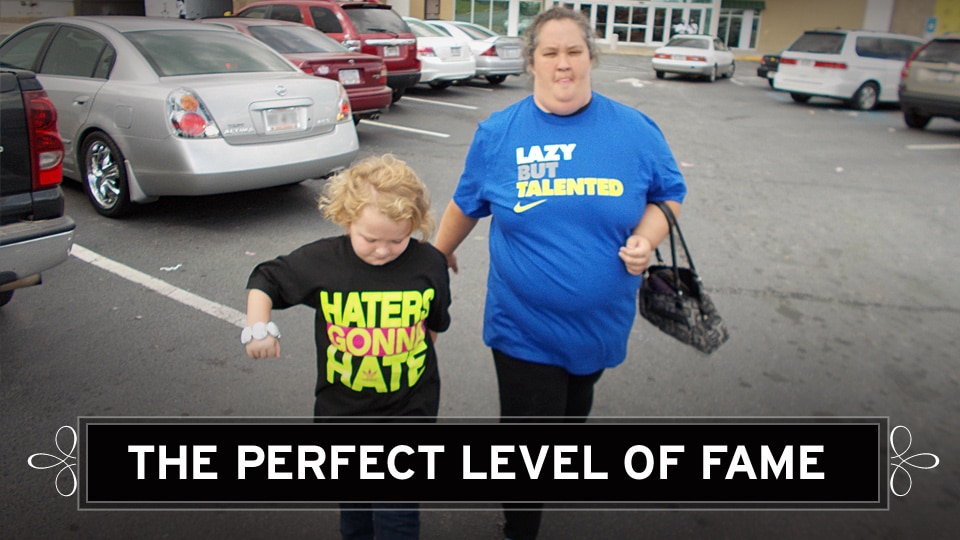 Proof that no publicity is bad publicity…here comes the chubby six-year-old pageant diva Alana Thompson– aka Honey Boo Boo– who after her debut on the hit show Toddlers & Tiaras became her own star along side her 300 pound + mom June Shannon. Welcome to the Jersey Shore of the south.
Now for anyone who hasn't watched the show let me just sum it up for you… You put a family of proud over-weight red necks in a house together where they eat cheese puffs for breakfast, constant sodas instead of water and fart in public. Add teenage pregnancy and a few baby daddies in the mix and you've got a show whose ratings have gone through the roof since their first episode. We call it the culture of lower-class America well I'm not aware of any culture that thinks it a good idea to hand a first grader a beverage consisting of Red Bull and Mountain Dew to 'keep her on her toes', and I personally think this whole family needs to be put on a diet and paid a few visits from child services (who is never anywhere to be found when shit like this is happening, but a guy spanks his kid in public and they're up his ass like a Thai tray prostitute).
If we know anything about America its that being as despicable and irresponsible as possible in this country gets you a hit tv show and a ticket out of poverty (with the honey boo boo family making $4,000 an episode),
Adds June on the season finale of the show (that yes…is in the process of filming season two already)… "Beauty comes within, I mean, if you got a great personality and everything, I mean it shines through on the outside."
Oh so is that why you feed your children 'Sketti' (Boiled pasta with heated ketchup as sauce), because they are beautiful on the inside and therefore can be obese and uneducated  on the outside?  Remind me to buy Junes parenting and cook book when it hits stores…
The show's first season finale airs tonight.