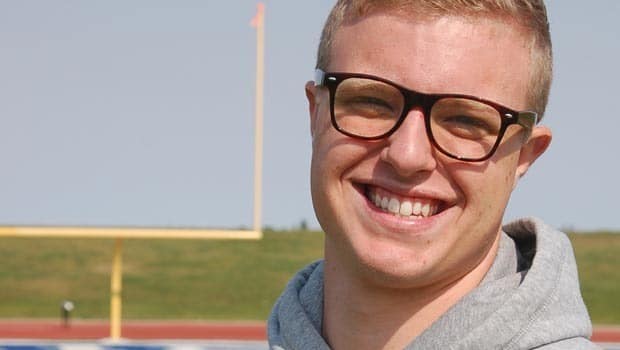 North Dakota State College linebacker Jamie Kuntz has been kicked off the school football team because according to the school he lied about him kissing his boyfriend during a game.
Since the incident Kuntz, 18 who was on a partial football scholarship has left the college. Said the young man:
"Football didn't work out, so there was no reason to stay,"
Football didn't work or is it the school's attitude towards homosexuality that didn't work out for the young man?
"People around here aren't exposed to it," Kuntz said of homosexuality. "People expect gays to be flamboyant, not football players."
At the time of the incident one of Kuntz fellow team mates witnessed him kissing his 65 year old boyfriend in the school press box (Kuntz had volunteered to videotape the game), later reporting it to the team coach, Chuck Parsons.
Asked about the kiss by Coach Parson on the bus ride home after playing away from home (which baffles this author why it wasn't even the coaches business in the first place), Kuntz offered that the elder gentleman was his grandfather.
Feeling guilty about lying the young man later came clean with Coach Chuck Parsons.
This led to the young man then receiving a letter from Coach Parsons informing him that he was being dismissed from the team for 'conduct deemed detrimental to the team,' as categorized by the school guidelines in the team player's manual.
The letter reproduced in part below offered the following:
"This decision was arrived at solely on the basis of your conduct during the football game; and because you chose not to be truthful with me when I confronted you about whom else was in the box with you. Any conduct by any member of the program that would cause such a distraction during a game would warrant the same consequences."
Kuntz for his part doesn't believe he was fired for lying(do you?) but because of his sexuality.
"I know if it was a girl in the press box, or even an older woman, nothing would have happened," he said. "If it was an older woman, I would have probably been congratulated for it from my teammates."
Does the above ring true or is it just the venting of a scorned young man?
And how has the school's president, John Richman received the news of the young line backer being fired?
"I'm very confident that with the information that's been provided to me by our football coach, Chuck Parsons, by our athletic director, Stu Engen, that the thought process, the facts that were reviewed, have led them to an appropriate and the right decision in this case,"
Of note neither Stu Engen or John Richman can necessarily recall a football team being disciplined for lying by Coach Parsons. Which raises another question, what if Jamie Kuntz had been caught in the lie and it involved him kissing not a man but a woman would he have still being dismissed? To be even more blunt what if Kuntz's boyfriend wasn't a 65 year old man but a 19 year old boy would that have been more acceptable (despite a bias against gay relations), at least in the school's mind the relationship between Kuntz and his boyfriend would have been more palatable. But then again why should it ever be the school's job to judge whether one of their student's relationship (apart from a teacher at the school) be palatable in the first place?
Adding to the burden of leaving the football team, Kuntz has now opened up to his family about his sexuality which has led his mother Rita Kuntz making the following comment:
"I'm struggling with it," said Rita Kuntz, choking back tears. "I love Jamie and I'm proud of him, but I know what the school did was wrong."
And what of his football career? Kuntz says he's not giving up. He may pursue it as a walk-on at another university outside North Dakota.