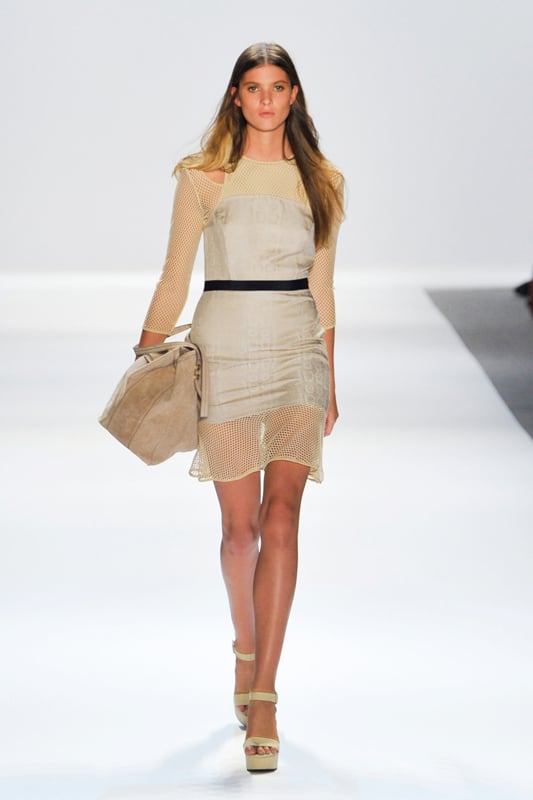 Reptilian zest against paneled and printed or leather Flounce dresses, at the very best: 
Charlotte Ronson is an expert attention go-getter. A product of pure artistry, her designs in no way feed off the fame of her socialite family and friends.
Kimora Lee Simmons, looking 20 times better than ever before, earned an extra appeal for the already undoubtedly already 'exciting' show! Front row, backstage in the tents, the Simmons steered away attention, but nourished the spectacle, wholeheartedly.
Edgy yet feminine, models' waists, clavicles and breasts predominantly filled Charlotte's charming serene pullovers and Scuba and Spaghetti Strap dresses. Nevertheless, the show of leg, arm, back and shoulders exposed any beauty courageous enough to sport succulently revealing trends. Reptile net incorporating midnight leather seemingly downplayed the risk of any cheesiness or fragility. Shorts were not just short, but 'Lemonade' colored, so to accentuate the model's body and gait.
Models' hair underwent limited styling, while the makeup and accessory remained bare-minimal. Undeniably privileging golden exuberance, refreshed by blue or gray eyes, red-haired, Asian, African-American silhouettes too, augmented the brilliant female. Water Lily Silk Print and Daisy Embroidered Organza enamored the strongest feminine appeal, while leather shells (whatever Look book substitution that is for a triangular short mini-skirt) paired with midnight Leather Flounce skirt, boasted an unbeatable edgy surreal.
Clear vinyl varsity jackets, a noticeable trend I'd never seen before, were presented in various colors. From dark to light, Juicy Couture produced 2008 opaque versions of the cropped vehicle, but Ronson's design boasts one that is excitedly supremely more wearable. Only the sister DJ Samantha Ronson courageously has boasted such sex appeal in the past, primarily due to her media-caddy relationship to Lindsay Lohan.
Enough talk: Because Charlotte outweighs any celebrity, with her originality.
Partial to the framework constructed by the Simmons, backstage—Samantha was shy to the camera. Charlotte spoke little, but genuinely felt her designs magnificently spoke for herself, sufficiently expressionistic.
To see more images go here.