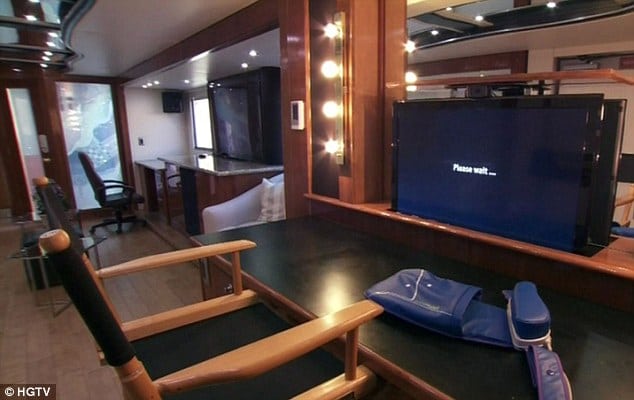 Simon Cowell will always live the hawt life. Will you?
Back from his fab holidays at St Barts (yes money, prestige and Simon's good looks will take him quite far thank you very much) Simon is about to embark on a road trip here in the US where he will seek all you hawt bixches to come and take part in the X factor.
But when Simon travels he just doesn't travel at sap his ass at some fancy hotel. That wouldn't be very exceptional for Simon who has taken a great love of living amongst you and seeking you all out in the nasty crevices that you aspiring starlets all live.
Which brings us to Simon's little buggy. Well to be exact his $2 million 1200 foot trailer.
Shall we invite ourselves in for a peek at how this hawt bixch lives the hawt life?
dailymail.co.uk: Cowell's trailer comes complete with two bedrooms and two bathrooms.
It has a fully-equipped kitchen with Italian cherrywood cabinets.
And it is said to costs a massive $9,000 a week to maintain and as it is made up of marble flooring and the ceiling are lined with leather.
Marble flooring? $9000 a week to run cause he cleans the loo with Brut? Or is that Simon simply entertaining guests with the good shit.
His 1,200 square feet mobile home also includes a cinema room with 100 inch screen, offices and an all-granite bathroom.
Made by Anderson Mobile Estates, it has 22 wheels and weighs in a whopping 30 tons.
At the touch of a button Cowell can transform the trailer into a two storey abode and another button a glass divider in the trailer from transparent to opaque when he requires privacy.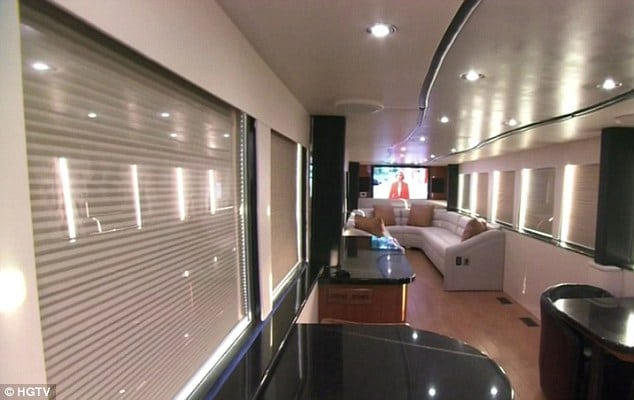 Oh my! How very clever of Simon! I must say I am impressed and if I could somehow get one of the chipmunks that lives in the gutter with me to go out and sell some promised action (yes it's time to become a pimp on the side) we could possibly get our hands on something as fancy as Simon, of course without all the bells and whistles. But who needs luxury when you have a tipsy pair of chipmunks to get through life with?
The interior has church-style arched windows which have full electric shades controlled by AMX touch screens.
There is also a space for Cowell to get his hair and makeup done in an upstairs room which has a large mirror surrounded by light bulbs.
A satellite hookup on the roof sends movies to a 50-inch plasma TV or 37-inch TVs peppered around the trailer which also features a 100-inch roll-down movie projector screen.
Upstairs holds a bar and an office big enough for 30 people including Cowell's assistants and staff. 
But here's the part I like best (please swap medical equipment for the good shit):
The 52-year-old music mogul's trailer also features $150,000 worth of medical equipment, including an EKG glove and a pop up TV that has his doctor on call 24/7 in case he ever feels ill. 
Don't you wish you were on the prowl for hawt talent in some godforsaken crevice of America too?