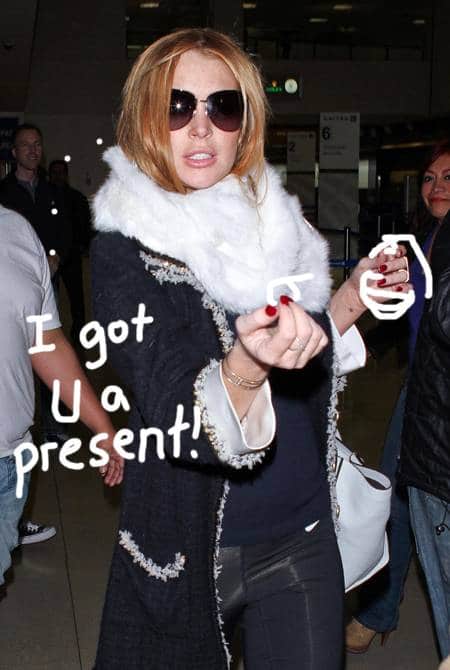 What Lilo wants is what Lilo nearly gets. Trying to let the world know who the real hawt bixch of the show is…
According to witnesses, belle du jour Lindsay Lohan had a hussy fit this past Tuesday night at Hollywood night club, Bootsy Bellows when she spotted Clint Eastwood's daughter, Francesca and her pals slamming it up in the VIP section.
Marching up to Eastwood, who was celebrating her 19th birthday (and I bet she wasn't celebrating it with soda pop) Lilo then demanded the hussy high tail it out of the joint cause she, Lilo, was the belle hussy du jour not that brat Eastwood who was clearly out of her league.
Screamed our collective hero: 'I'm a star, she's a nobody, get her out of here!'
That a boy. That's letting the world know which way the world shines.
Unfortunately for Lilo it was her hawt ass that got kicked out by security (I know the world is never fair) after she started jabber hawking back at some dude who just tried to calm the shit down.
Said a source: 'One poor guy came over and tried to calm [Lindsay] down and she acted aggressively.'
'At that point the security told her to leave and it was totally embarrassing. She is acting like some bad '80s film star, and it is hard to watch because she needs help.'
Bixch doesn't need help, she needs a 5 star camera crew following her everywhere to re assert to the world who this bixch is. What Lilo wants is what that bixch gets.
Asked for commentary Lilo's rep only had this to say: 'Lindsay is back at work and doesn't have time to dignify these types of stories with a response.'
Never mind. Lilo still knows better than you….