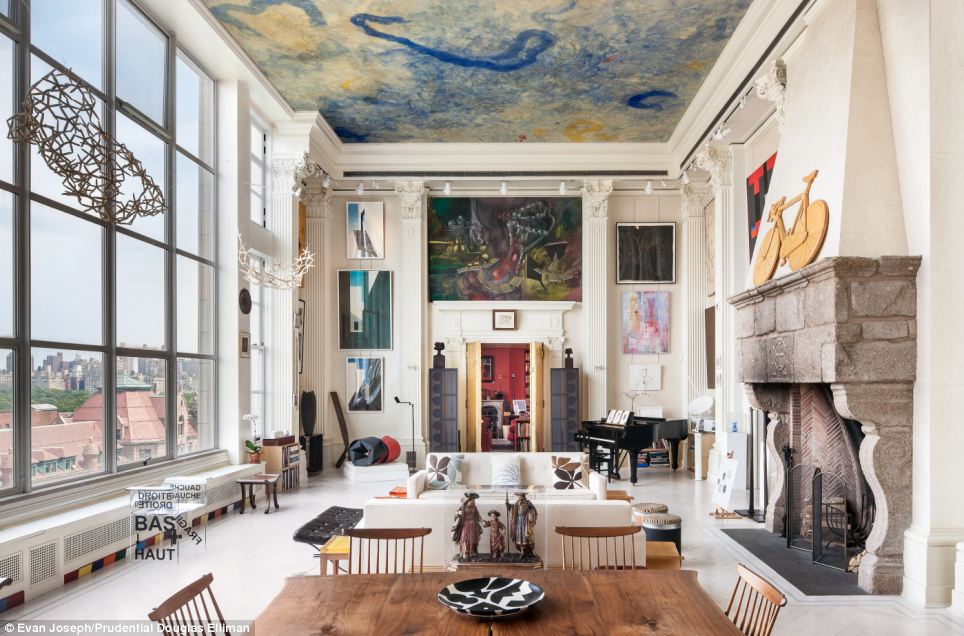 Attention all you captains of industry and trust funders, a new apartment asking $20 million has just hit the markets.
The details: The apartment of more than 4,200 square feet, three bedrooms and 2½ baths.
dailymail.co.uk: This beautiful $20million New York living room may be the most covetable in the world.
The vast lounge on the city's Upper West Side is 24 feet high and boasts breathtaking views over the city's American Museum of Natural History and Central Park.

Floor-to-ceiling Corinthian columns give the feeling of being in a museum, castle, or giant public library and draw the eye upwards toward a magnificent Miro-style mural in Venetian plaster.
Yes, I'm salivating just like you, wondering how I can possibly come up with enough charm to make it as a future house guest to this raunchy NYC real estate. Yes, the privileges of being a tabloid writer include being chaperoned from party to party and being offered the occasional use of some rather delicious real estate (don't ask what we have to do in return).
The gorgeous swirls of blue, white and yellow were painted on to the ceiling by Madrid-based artist Ramon Canet, who lived and worked in the apartment while its owners were renovating it.
On one wall is a vast, working stone fireplace built in the 17th-century on the Iberian Peninsula and at one end of the vast room are a wooden table and chair set by George Nakashimi, arguably the top woodworking artisan of the 20th century.
To be honest I could imagine sitting in the vast living room as I collected my thoughts and tended to the daily gossip, with the sweeping Central Park views down below egging me on to recall all the delicious gossip that we all savor.
The female owner, who purchased the home in 1997 and works in philanthropy and finance, said: 'As soon as I walked in and saw this room, I said, "I'll take it".
'I saw 130 apartments. I needed someplace for art. Here, it was the light, space and flexibility. I just thought this room could be anything. That's what makes it so special: If you have imagination, this room can be anything you want it to be.'
Agreed one can do a lot with imagination, which is why when I return to my dilapidated apartment later tonight I'll dream of this oasis too.
The listing broker is Colombian-born Monica Luque of Prudential Douglas Elliman. I'm betting she'll be happy to hear from one of you well to do sorts in the very near future.