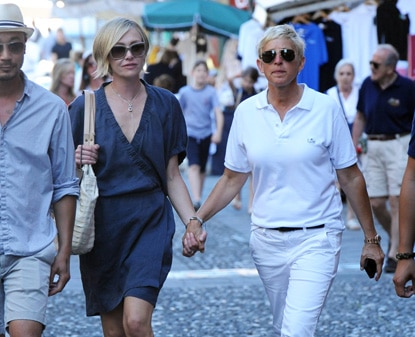 Jet lag? Ellen Degeneres and Portia De Rossi return to Los Angeles in love.
Ellen and Portia are two very hawt bixches in love. With Italy.
As summer rolls around the corner it's time for loved ones to get up and about and explore summer spoils. That said, Ellen Degeneres (hmm, has Ellen put on some weight lately?) and her hawt bixch Portia De Rossi (doesn't she look superb in her new bob?) took to some sight seeing themselves as they headed over to Portofino, Italy. Apparently the two got to get in their bikinis later and sunbathe on someone's yacht, although one wonders what they'll get up to when their 4 year anniversary comes up in August. Any guesses?
For more images head over to radaronline.
Portia de Rossi is nearly Portia Degeneris.