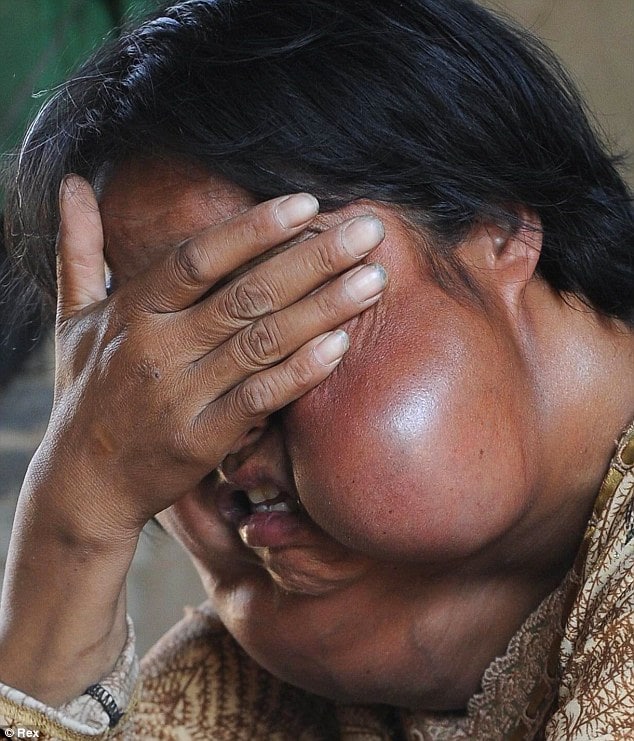 Li Hongfang, a Chinese woman and mother of two has appealed to the community in order to find a solution to a disease that has ravaged her face over the course of ten years.
Since first being diagnosed with a rare bone condition the mother has had to watch in anguish as the condition has steadily worsened and led to a debilitating growth of her facial features. Unable to afford treatment in her local town she has found herself over the years shunned by her local community as her disease has steadily progressed and led to extreme disfigurement in her appearances.
The situation first came to light in 2001, when Li Hongfang noticed swelling on her forehead. At the time she thought nothing of it as it wasn't painful, but over the course of four years the situation worsened leading her to finally seek medical assistance.
What is worth noting is at at the time of initial discovery the woman was told she should make the trek to a city hospital to tend to the grievance but thought better of it as she didn't have the cost of travel in hand. A decision that would later come to haunt her.
As the situation worsened she sought medical help only to now be told it would cost in excess of $100 000 to treat and unable to obtain medical health care she has watched in horror as her situation from there on has markedly degenerated.
Offered the woman: 'I know that a lot of people see me as a monster but I am just a normal woman and a mother inside.'
Then when she thought things couldn't get worse, her husband then passed away leaving her now the responsibility of singularly having to take care of her family. She soon there after tended to begging on the streets.
By 2009 she had met her second husband, Guo Yingping, an orphan who related to her sense of her ostracism.
At present the woman is faced to deal with the daily trauma of stigma and the mortal threat the disease has on her life as the tumor now covers much of her face and has now grown to her breast.
Since her story first caught the attention of social networks in China, thousands have sent her text of encouragements, yet what is probable in order to sustain life is that Li find a benefactor to fund an operation.
At present the Chinese government have not come to the mother's aid although it is been said that the government hopes to be able to provide health care to its residents of 1.3 billion by 2020. A situation unlikely to help Li as her disease morbidly progresses.
via asiaone