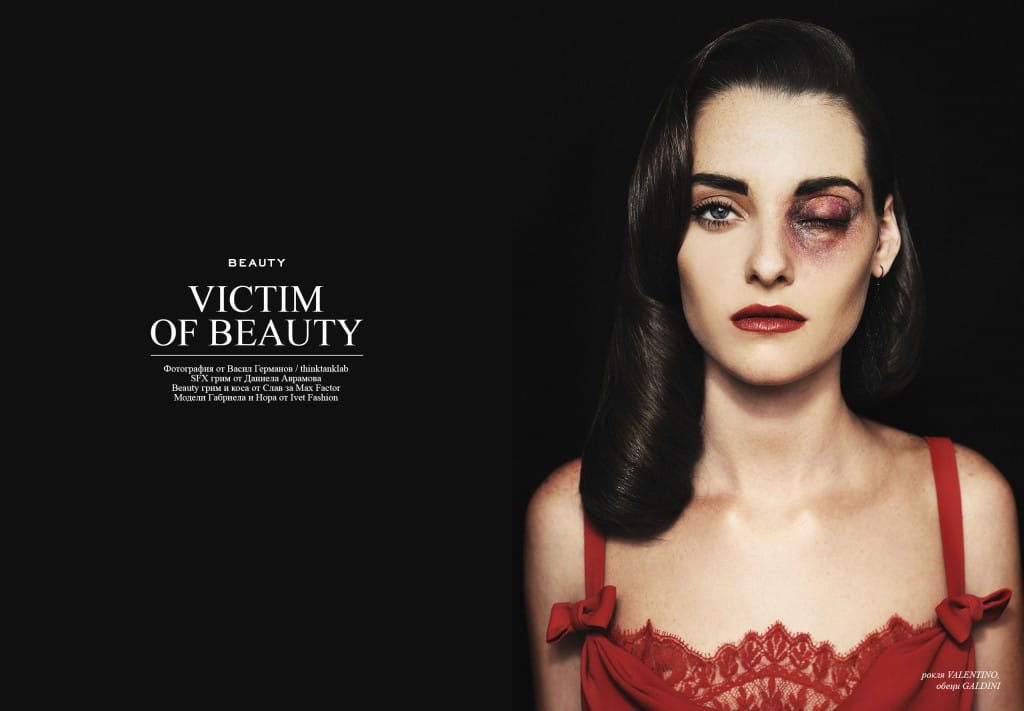 Because the best way to sell a fur coat is to break a woman's eye socket….
jezebel: Bulgarian fashion magazine 12 just published an appalling editorial containing nothing but portraits of models with horrific injuries. It's a "beauty" spread — the kind of feature that normally highlights a makeup artist's skills and aims to sell the "new" eyeshadow color of the season — but it isn't very beautiful. There are models with Black Dahlia-style Glasgow Smiles, models who've been strangled, models who've had their earrings and facial piercings ripped out, and models who've been mutilated with acid. It's all special-effects makeup, but it's still sickening.
Strangled, beaten up and smiling? Does this sound just like another day at the fashion office? Granted the depictions (yes judge for yourself) are certainly gory and screaming of misogynism but can we really blame '12' (yes I hear you screaming) for their 'editorial' representation when all around us are more and more edgier depictions of women in popular culture. You can thank the ad man for this.
Let's take Dolce Gabanna's campaign of selling clothes in recent years. Sure no blood, but lot's of subordination and implied threat of violence against women. Then of course there was this Belvedere rape ad recently which caused alarm. But then again nothing sells more than some hysteria. Something that the fashion industry hasn't been shy to edge away from despite their constant brow beating, 'oh damn, this is so icky!' But then again, I know I am going to go out on a limb here, but maybe on some subversive level women enjoy being subordinated and dominated, even to the point of violence?
'12' helping put the idea of women as fashion victims in a whole new class. But nice eye shadow right girls?
Violence in Advertising and why it sells.
So what was Belvedere thinking when it came up with its rape ad?
Study: A person who learns about sexuality from pornography learns that the purpose of ejaculation is that of soiling the mouths,faces,breasts,abdomens… of women.
Fifty shades of Grey- how women are giving up sexual autonomy and loving it.