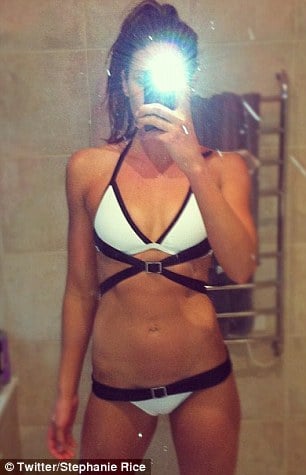 It's always best to remember that Olympic swimmers should always present a dowdy image in dowdy swimming costumes until that is they get an itching to do otherwise.
Aussie Olympic swimmer and triple gold medalist Stephanie Rice has gotten herself into some hot water after she posted what some have deemed to be a too revealing pic of her in a bikini (could I for one say give me more Stephanie?).
Wearing a two piece bikini known as 'tomb raider' (I'll leave why it's named as such to your imagination) as designed by girlfriend, Ellie Gonsalves, a local designer the swimmer cuts an image more befitting of a Maxim cover model than that of a woman meant to one supposes modestly represent her country in the soon to be summer Olympics.
Reactions to the tweeted image have included the following: 'Stephanie Rice posting a photo of herself in swimwear has brought disgrace to the Australian swim team and she should be dropped.'
Nevertheless Rice decided to leave the picture on her instagram which led to an outpouring of support. One such supporter included local radio presenter, Ryan Fitzgerald and mate Michael Wipfli wearing a similar bikini in an obvious good natured spoof.
The swimmer it seems is no stranger to controversy:
dailymail.co.uk: The controversy is the latest to hit the swimmer, who won three golds at Beijing in 2008 and is the world record holder for the women's 400m individual medley.
In 2008, Miss Rice sparked outrage when a picture of her posing in a skin-tight police costume appeared on her Facebook page.
And in September 2010 she was slammned she wrote 'suck on that faggots' after Australia beat South Africa in a Rugby Union match. Miss Rice was criticised for the comments and made a tearful public apology.
At present it seems the pictures of gone down quite well and if anything have probably helped the Aussie swim team's image but then again who wouldn't want to show off a body like Ms Rice's if they spent every waking hour in the pool?